The Hidden Electives of FHS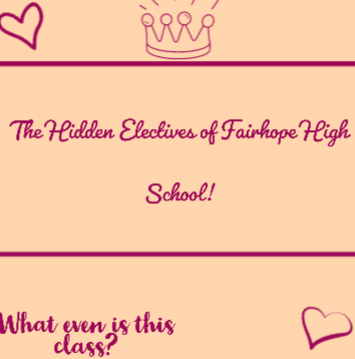 With the end of the school year comes to one questions every student has asked at least once: "What even is this class?" There are so many electives and programs at FHS that it can often become overwhelming. Don't worry. It's completely understandable. I am here to help you with that! Many different age groups focus on different elective choices. According to FHS Junior counselor, Mrs. Adams, different grade levels choose very different electives. Freshman already take required courses by the State Department of Education, but they tend to pair those classes with a foreign language. Sophomores tend to pair the required course of Health with Driver's Ed, which is commonly mistaken to be required as well. Driver's Ed is not required! It is just highly recommended. Juniors tend to do lots of work-based courses and programs, "formerly known as CO-OP." Seniors really have a choice of anything, but this years 2021 graduates had the decision to leave school early after their required courses. Electives commonly change from year to year. It is common for an elective to be dropped or saved before the school year.
Trade school is a topic commonly mentioned at FHS. However, it is very rare that a person understands the full curriculum of the program. The trade school program is held at Coastal Alabama and South Baldwin Center for Technology. They are meant to train students for a future career, most of which don't require a college education. Multiple programs are available, such as welding, cosmetology, and many more! It might be too late to sign up now, but if you can, it would be a great opportunity!
Life Connections is a sub-group of electives that includes many, many electives. Event Planning, Teaching, Management, Marketing/Business, Charity/Fundraising, Hospitality, Tourism, Restaurant, Hotel, and so many more! According to Life Connections teacher, Ms. Carol Chambers, these courses are meant to focus on "practical problems related to nurturing human development throughout the life span and the life cycle." These courses are meant to supply students with a glimpse of future opportunities and events in their lives. Career planning, relationship adjustments, retirement, and marriage are just a few. "My favorite thing about this is the students brainstorm, plan, and actually get to see their ideas come to life," Chambers says. For example, Event Planning is responsible f0r organizing many of FHS' events, most notable prom and homecoming. These skills can truly help you excel in whatever chosen career you decide!
Many new electives have been created to fit with modern jobs. Internet Marketing is one of these courses. The class is open for grades 10th-12th. It focuses on applying tools, strategies, and communication skills targeted towards digital workers. There is an emphasis on the creation, implementation, and critique of online advertising, email marketing, websites, mobile marketing, search-engine optimization, video/images, and podcasts/webcasts. The assignments have a large amount of writing skills and help with their chosen career in the future. Mrs. Kristie Davis, Internet Marketing teacher, says that next year she plans to "I hope to not only continue with both our school's social media pages, but to also be able to reach out to area businesses and have our students work one-on-one with business owners to increase their business' social media awareness…Social media influences us each and every day when it comes to the products we purchase, and the places choose to visit. It is a pathway that is now being offered at many colleges. It was important to us at FHS to both introduce the subject and teach the curriculum to any student that might want to pursue that career in the future."
Another newly introduced elective is News and Views. News and Views is a single semester elective based around broadening students access to "relevant, timely news." This was the first year the elective was present at FHS. The elective was created by Mrs. Anna Hardy, an 11th grade Language  teacher at FHS. The elective is limited to people enrolled or who plan to enroll in AP Lang. Therefore, it is limited to mainly Sophomores and Juniors. Hardy states that she planned it this way to keep the numbers low, and allow AP students to properly expand their intelligence. As well as intelligence expansion, the elective was introduced as a way for students to properly argue and debate with factual, accurate statements. Due to Hurricane Sally, many of the projects were cut shorts. However for next years class, there will be a mock debate and mock jury. Students are even able to develop their own Ted Talks. "The resources are varied in topic," Hardy says "and expose students in an approachable way to social issues, environmental issues, political issues, etc."
Electives can truly help you with choosing what career you'll excel in the future! The school years almost over, so I hope you picked your classes properly! I know it can be nerve wracking, but don't worry! You still have some years to go. Unless you're a Senior, then I can't help you. I'll be a Senior next year. Wish me luck!