3 Circle Church hosts annual event, Uprise
Building relationships for a lifetime
by Mackenzie Hartzog, reporter
FAIRHOPE, Ala.– Uprise, an event that celebrates its ninth year in 2023, is a weekend designed to encourage students to deepen their relationship with Jesus, create lasting relationships with those around them and have a fun/competitive experience while doing it.
Youth pastor TC Brown has been a youth pastor at 3 Circle Chruch for 10 years. Brown and other staff of the church begin planning about six to eight months before the actual event.
"The overall [goal] is to make sure a student (or adult) knows they are loved deeply by an amazing God. Jesus changes everything," Brown said.
Incorporating the whole community, many new relationships are built from competitive games, making the event unique and fun! This past Uprise was student Mackenzie Casallo's second time attending the event.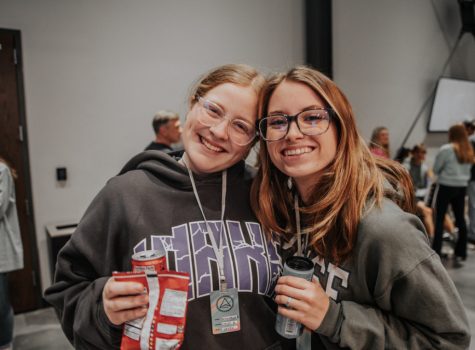 "I would have to say the games are THE BEST, I love the teamwork and have really bonded with people I have not met before," Casallo said.
During the weekend there is a moment of worship every day.
"A memory that [impacted] me so much from Uprise would have to be during worship. I remember it was during the song "Yesterday, Today, and Forever." Everybody had their hands up, and I randomly got chills down my back. I realized that I could feel the Holy Spirit in the room and it brought me to tears," Casallo said.
The open and respected environment allows for honesty and acceptance throughout the three-day weekend. The hope is allowing others to understand that they are accepted, loved and welcomed by God's people no matter their circumstances or past.
"Because of Jesus' radical love we should love others in return," Brown said.
3 Circle leaders engage with the students, and the senior interns also lead by example. Senior intern Mary Ellis Barton has attended Uprise since freshman year. Her experience of the event is nothing but positive.
"Uprise is part of the reason I am a Christian. It has allowed me to connect and encounter Jesus and understand what was happening through leaders who cared about me and my spiritual growth," Barton said.
Undoubtedly, many have walked away from Uprise with similar experiences.
"Uprise has been the best time to take a break from my busy life and have an escape to worship God. I wouldn't replace my relationships I've made for the world," Casallo said.
In final consideration, Uprise has served many and allowed for a new perspective on life.
"I have seen it impact students in a tremendous way. Adults too! People walk away meeting Jesus for the first time, finding community or a friend and walk away knowing they are loved," Brown said.
Overall, Uprise forms relationships, fosters spiritual growth with its light-hearted, yet meaningful, activities and serves as a time off from the stressful atmosphere that life can bring.