Earth Day Festival Influences to Reduce Waste
Mother Earth's Special Day
By Florence Beasley & Isabella Fike, Reporters
FAIRHOPE, Ala.- On April 22, also known as Earth Day, Fairhope hosted the annual Earth Day Mobile Bay festival at South Beach. Many citizens and vendors came together to celebrate our home known as Earth.
Vendors like refilleries, vegan soap companies, handmade clothing shops and more were there to offer on such a beautiful day.
Janet Boullemetukangsin, owner of Southern Replenish Refillery, cannot emphasize enough how important it is to reduce plastic waste on the planet.
She was the first to open a Refillery in Alabama and has saved 13,000+ bottles in the last year.
"[Earth Day is] a day for like-minded people to come together, and be educated about what the options are for our community," Boullemetukangsin said.
Refilleries are places to bring in plastic bottles that you don't want to go to waste. The bottles are traded in for reusable containers and can be refilled with detergent, body wash, shampoo or conditioner, and each and every bottle is saved to reduce plastic pollution.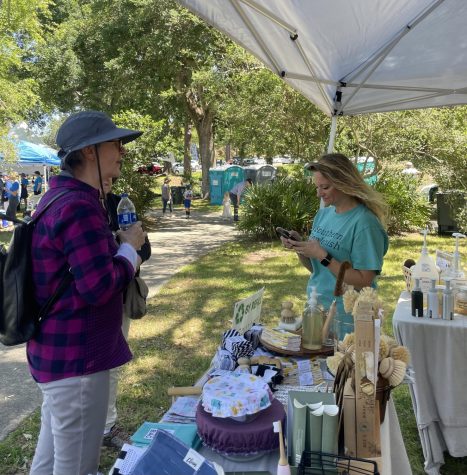 Boullemetukangsin has recycled all her life, hoping to influence others that you can always reuse what you can.
"[I've recycled] pretty much all my life, about 24 years. I've always been environmentally conscious," Boullemetukangsin said.
With the festival being on the South Beach, Alabama Coastal Foundation's "Share the Beach" program hoped to encourage reduction of pollution on the beaches in Mobile Bay.
Share the Beach tries to mitigate human-related impacts on sea turtles, especially the effects of artificial light pollution.
Share the Beach director Sara Johnson progresses her sustainable lifestyle more and more every year and encourages others to do so.
"I do as much as a can to live a sustainable life, trying not to buy things at the grocery store with plastic production is a start," Johnson said.
Alabama Coastal Foundation tries every year to promote its message at the Earth Day festival.
"We do try to encourage other people to choose more sustainable ways of living that are more in tune with supporting our planet. Earth Day is a really good time to talk about it and encourage others to make those changes that become lifelong," Johnson said.
More ways to reduce waste can also be related to handmade vegan products.
Talia Lumpkin, the owner of NoSoap Company, handmakes vegan soap for all to smell and enjoy.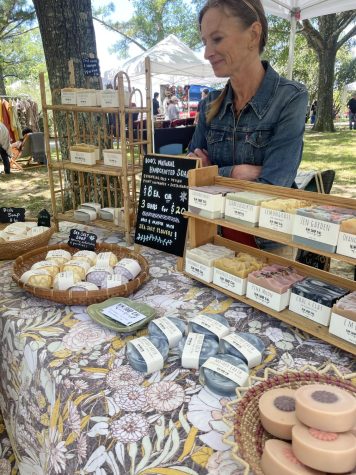 "I love Earth Day and I love what it is all about. I use clean ingredients and plastic-free packaging," Lumpkin said.
Trying her best to reduce waste and keep in mind what the other sustainable options are, Lumpkin hopes to offer great-smelling soaps while also keeping the planet less polluted.
Fairhope's year-round goal is to keep the city and parks waste-free for citizens to enjoy. The Earth Day festival is a way to start informing citizens to do better in keeping the planet clean.