Fairhope prom venue executed successful night
Fairhope Prom 2023
by Mackenzie Hartzog, reporter
FAIRHOPE, Ala.– With the end of the semester approaching, Fairhope students enjoyed an exhilarating prom night at a new venue called Belforest Pointe. Saturday, May 6. Seniors began the night with callouts at 6 p.m. and underclassmen entered at 7 p.m.
Senior Emily Allen has attended prom for two years now. Being her last year Allen looked forward to participating in callouts and the father-daughter dance.
"I got most excited for callouts and the father-daughter dance, but unfortunately the dance finished before callouts did, so my dad and I made our own," Allen said.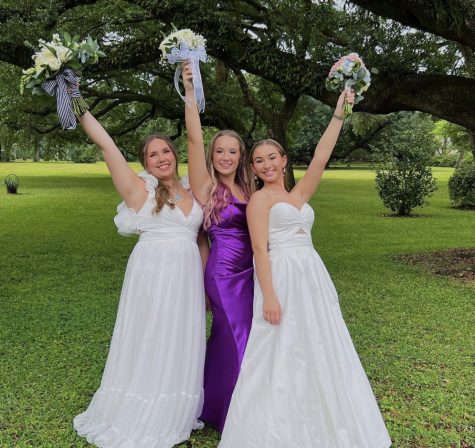 Prom is Allen's [favorite] memory of all the high school dances. With the dress and pictures, unforgettable memories were made. Since it was her senior year it was more sentimental.
"Being one of my last big memories of the final year of high school, I wanted everything to be perfect," Allen said.
In her first year at Fairhope High School, Elizabeth Orfanello teaches both life connections and event planning classes. She and her students have been preparing for prom. Ryleigh Godwin is in Orfanello's life connections and event planning classes. For two periods out of the day plus all of her free time in study halls and elective classes, Godwin spent most of her time in Orfanellos's class preparing for prom.
"Prom set up began in August and only ended after prom ended," Godwin said.
Many ideas came into play during those times for fundraising and ways to purchase the venue and all amenities that were at the dance.
"The [best] part of prom had to be getting to show up and see all of the work that went into it, and it all came together along with the venue being beautiful and the theme working for where they choose," Godwin said.
The venue featured an indoor dance floor close to the DJ. It also had an outside area with tables and chairs where most of the chaperones stood watching the groups take photos in front of the breath-taking student-made arch. Inside workers stood by photo booths with instant printing photos for both couples and friends to enjoy.
Student Reese Knight has attended prom since freshman year. This year being held at a different location, the event is even more exciting. She mainly enjoyed the makeup and seeing her outfit all come together for the photos. Instead of attending with friends for her junior prom, she had a boyfriend which made it more exciting to share the moment with someone she deeply cares for.
"Overall my favorite thing was being able to spend time with my friends and making memories," Knight said.
Although it rained at the beginning of the night, students were still ecstatic and maintained high energy throughout the night. The DJ maintained high spirits with his consistent choice of music. Prom 2023 was a success.