Cheerleaders lay groundwork for current season
September 14, 2022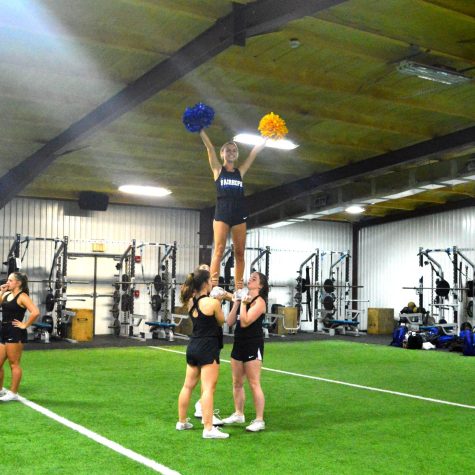 The People Behind the Pep: FHS Cheerleaders
by Abigail Dasinger, reporter
FAIRHOPE, Ala. — Fairhope cheerleaders are getting ready for the new season of competitions and cheering their school teams on. Cheerleaders and coaches give insight into what is to come with future games, competitions and more.
The cheer team is starting a new year and new team members are thrilled to get started. Freshman junior varsity cheerleader, Addison Walsh, is excited for her first year of high school cheer.
"I love cheering for the high school," Walsh said. "I believe it is such a great way to be plugged into your school and I will definitely be trying out for varsity next year."
Also excited are Fairhope's sophomore cheerleaders, moving upwards.
Sophomore, Bradyn Bauguss, is one of the few sophomores on Varsity. She has been cheering since she was two years old, participating in competitive cheer. She started school cheer in seventh grade.
"I feel accomplished being on varsity as an underclassman. On varsity, we get the opportunity to do more exciting
things such as pep rallies, competitions and fundraising events," Bauguss said. "I take great pride in cheering on
our Pirate athletes."
Fairhope's cheer team is preparing for the high school's first cheer competition, on Nov. 3, in Mobile for Southern Super Region. Varsity cheer coach Pamela Brewer is confident that her team will be fully prepared by November.
"We've been preparing by conditioning, jumping, stretching and creating stunt groups. We started choreography/competition practices Sept. 12, with all the girls competing," Brewer said.
Brewer and her team feel this year will be a successful one.
"Each year, I have more and more talent on our teams," Brewer said. "This year's team will do well."
Junior cheerleader Brinly Bauguss noted that Fairhope cheer is blessed with amazing talent every year and shows equal confidence as Brewer in this year's team.
"We started this year in a wonderful way so we can hopefully continue this winning streak through regionals and state," Brinly Bauguss said.
As far as this year goes, it is the last for Fairhope's senior cheerleaders. Brewer describes it as "bittersweet" when senior cheerleaders leave.
Brewer said she has spent three to four years with most senior cheerleaders.
"I'm not just a coach, but often become like a second momma. I love each of them like my own, so it hurts my heart because I know how much I will miss them," Brewer said. "At the same time, I am so proud of the accomplishments of each of them and I'm excited to see them conquer and succeed in their next chapter in life."
Cheer captain, Riley Sealy, feels a sense of grief for her last year cheering. She claims high school cheer has been a big part of her life and she will miss it. She is also, however, looking forward to this year as captain.
"I love being captain. I am an extremely organized person, so I love to organize and help the team in any way they need me to. I am very excited for the team this year and I can't wait to see how far we go," Sealy said.
While seniors will be missed, juniors on the cheer team are also looking forward to being the next seniors.
"I will be so excited to finally be a senior! Being a senior is a very big deal when it comes to cheer. I can't wait to lead the team, and be the type of person people can look up to," Brinly Bauguss said.
Brinly said senior cheerleaders are held to higher standards than everyone else and constantly have to be the best versions of themselves. She thinks her grade will do well with this expectation.
"I think the junior class has a lot to offer when discussing leadership. We are all extremely talented and we know how to get things done. I can't wait to see what next year brings," Brinly Bauguss said.
There are high expectations for what this and next year will bring to Fairhope cheerleaders; the student body as well as faculty and staff are excited to see where they go.