Varsity volleyball team trains for season
September 19, 2022
Spiking Through the Season: Volleyball Goes for Gold
by Florence Beasley, reporter
FAIRHOPE, Ala.– As the volleyball season starts, students and parents watch eagerly to see how this season plays out. Student athlete Payton Berry and varsity coach Trae Collins see the strengths of the team already shining through this season.
Berry, the team's only senior, gained many opportunities to not only win big but also to travel all over the country with her family because of volleyball.
"Volleyball has made a huge impact on my life by teaching me lots of leadership skills I never knew I needed and taught me that hard work is rewarded in the end," Berry said. "It has also shown me countless times that when a door closes, another one opens."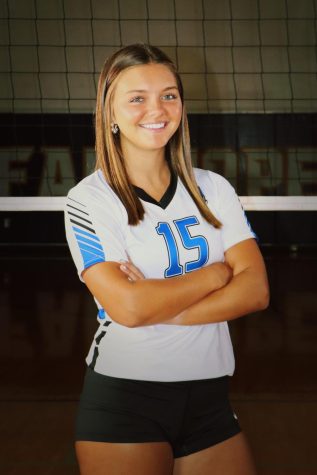 Collins feels proud about the team's success so far.
"The team currently has a 7-7 record with a big part of the season ahead," Collins said.
Berry loves the feeling of being on the court with her fellow teammates who share the same goals and want to succeed the same amount as she.
"It's the best feeling when you can feel each individual come together to make a great play happen!" Berry said.
There's no doubt that the varsity volleyball team has its strengths through when they play.
"Serving, defense tenacity and a good practice work ethic are all strengths of this team," Collins said.
Coaches hold very high expectations for the team and for what they are bringing to the court this year. Students, teachers, parents and staff cannot wait to see where the team's skills lead them next.
The varsity team is 14-10 so far and plays next at Foley High School on September 20.