Art teacher featured in Artist Throwdown
September 27, 2022
 Teacher Elizabeth Brooks participates in Artist Throwdown
by Isabella Fike, reporter
FAIRHOPE, Ala.– The Mobile Arts Council (MAC) hosted an event "The Throwdown" Sept.16, and talented Fairhope High School art teacher Elizabeth Brooks was invited.
Brooks has taught history at Fairhope High School since 2013. However, in 2017 she also became an art teacher. In between multitasking teaching two separate subjects and making sure students of all ages are thriving, there is still room for her inspiration.
Brooks has always taken inspiration from family paintings and techniques she observed throughout her childhood.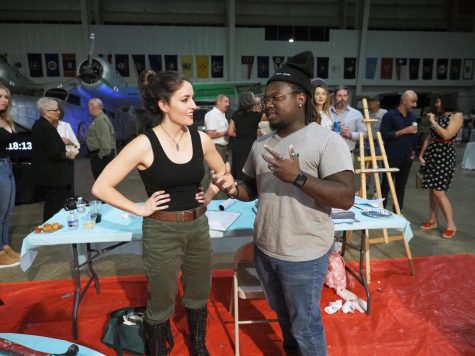 "My father was a very accomplished watercolor artist in his young adult years and seeing his work hanging in my childhood home encouraged me to want to create." Brooks said. "He taught me some of the first painting/drawing techniques that I still use to this day."
The event was a success. Mobile Arts Council was able to surpass its $15,000 fundraising goals. Collectively, the artists participating in the event raised $2,700 towards the fundraising total of $16,000. All funds raised will go towards MAC's mission, which is to augment the quality of life in the Mobile area by developing accessibility to the arts and promoting a "vibrant cultural community."
During the event, viewers could catch Brooks "in the zone" listening to music during the 90 minutes of working hard to create her original art.
"I really enjoyed getting to interact with the other artists and giving people an opportunity to watch my process of underpainting with thin oil paint, blending colors using color theory techniques, and applying my final coat of paint."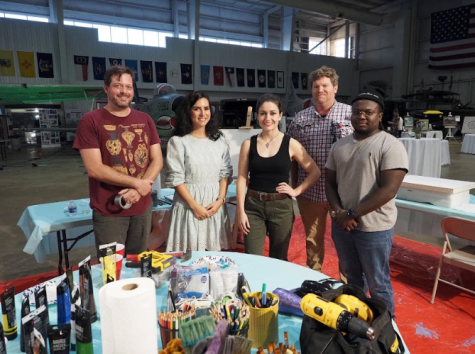 Before Brooks attended the event,  she was very nervous and expected a big stage she would've had to walk across. The event turned out to be fun, as she ended up enjoying herself and would love to go again if given the opportunity to participate.
"It was a little different than I expected… luckily it wasn't nearly as intimidating," Brooks said after the event.
Next event hosted, Brooks encourages individuals to drop in for a bit to enjoy showing appreciation for the arts in the area as well as having a great time.
"It's just fun, there was food, a silent auction, and live music to enjoy while the artists did their thing," Brooks said.
Brooks aspires to grow and become as superb as her favorite artist Johannes Vermeer.
"As long as it isn't destroyed, good art will be appreciated by posterity. So, I hope I can leave something good behind by the end of my life."