Varsity cheerleaders hold clinic for young future cheerleaders
October 6, 2022
This is the Pirate House! Girls in community attend Little Pirate Cheer Clinic.
by Ellery Scott, editor in chief
FAIRHOPE, Ala.–On October 2, varsity cheerleaders along with head coach Pamela Brewer held a clinic to teach young girls what it's like to be a high school cheerleader. Both Brewer, as well as cheerleaders, were overjoyed to be able to put on the clinic for another year.
Each year, varsity cheerleaders hold a clinic for girls who want to be Pirate cheerleaders when they grow up. Here, the girls are taught cheers, jumps and more that varsity cheerleaders are required to know for both football and basketball games.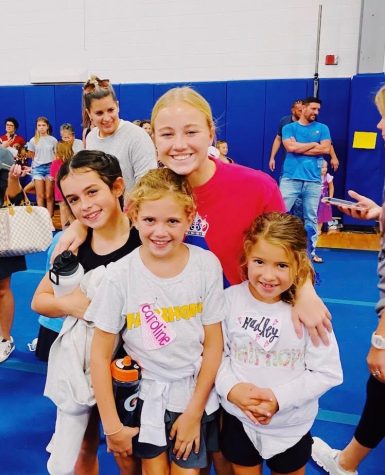 If that isn't fun enough, the girls get to grow up for a night and cheer with the varsity cheerleaders during the homecoming football game on October 14.
Head cheer coach Pamela Brewer has been putting the Little Pirate Cheer Clinic on for eight years but put on similar clinics when she taught in the Texas school system.
In order to participate, a child must be in kindergarten and can be no older than sixth grade. At the clinic, the kids were taught traditional cheers, band dances, stretches, jumps and even a little stunting.
The varsity cheerleaders who educate the young girls at the Little Pirate Cheer Clinic are a huge part of why it is so successful. Senior captain Riley Sealy always enjoys when this time of year rolls around.
Sealy has been helping with the Little Pirate Cheer Clinic since her freshman year when she was a JV cheerleader. With it being her last year as an FHS cheerleader, Sealy was excited about this year's clinic.
Upperclassmen were assigned to a specific station to teach the girls different things. Along with participating in games, each cheerleader was assigned around five different girls to cheer with.
"My favorite part about the clinic is the excitement on the girls' faces when they are cheering on the Pirates at our big homecoming game," Sealy said.
In terms of having the girls down on the sidelines at the homecoming game, Sealy said it is "a little overwhelming" with so many girls to look after but "so worth it."
Junior Brinly Bauguss, a fellow varsity cheerleader,  shares Sealy's joy of helping with the clinic.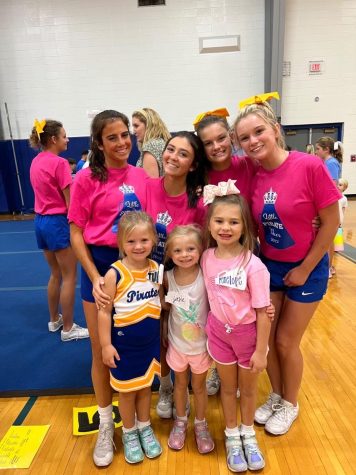 "We love teaching them just as much as they love learning," Bauguss said. "The little girls get so excited knowing they get to cheer at the game with the girls they watch every Friday and being a part of that excitement is everything to our team."
She agrees with Sealy that having all of the girls on the sidelines for the homecoming game can be a little stressful, however,
"[they] all truly love it."
"They make the games so much fun and watching them have the time of their life is something I'll never forget," Bauguss said. "I'm so thankful to be a part of such an amazing program!"
All of the children who participated in the clinic join Varsity and JV cheerleaders on the sidelines to cheer for the fans during the first half of the homecoming game. All of the participants show the cheers they've learned, as well as the band dances and jumps.
"[Getting the kids prepared] is a process that is not for the faint of heart," Brewer said.
On the day of the game, varsity cheerleaders make sure to have plenty of cheer parent volunteers and instruct the cheer parents on the safety procedures.
"Each participant wears a matching shirt, to make them easily identifiable," Brewer said. "We have a spreadsheet of each participant, along with their grade/age/parent or guardian info."
Each FHS cheerleader is assigned a small group of girls to instruct at the game. After the participants cheer on the sidelines, they are released to their parents. "We have a sign-out table, manned by FHS cheer parents, and each participant is signed out and handed over to their parent/guardian," Brewer said.