Baldwin County wears gold for Childhood Cancer Awareness Month
September 30, 2022
Go Gold: Students, Faculty, Staff support cause
by Ellery Scott, editor in chief
FAIRHOPE, Ala.–On September 28, schools in Baldwin County wore gold to raise awareness for childhood cancer. Baldwin County Superintendent Eddie Tyler as well as Fairhope High School student Sydnee Cantley believe honoring this cause with a dress-up day is important.
With September being Childhood Cancer Awareness Month, Baldwin County Superintendent Eddie Tyler stressed the importance of supporting the fight against childhood cancer with a county-wide day of wearing gold, the color associated with this cause.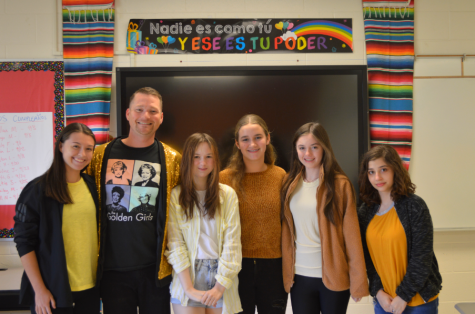 "When we all come together, we are unstoppable," Tyler said in an email to all district employees. "I'm asking that we all come together to support the kids and families in our area who have had to endure the unthinkable… a disease that attacks the most innocent- Childhood Cancer."
Fairhope High School is unique in that we have two students who have battled childhood cancer.
One of them, senior Sydnee Cantley, was a freshman when diagnosed with thyroid cancer after her doctor noticed that one side of her neck was larger than the other at a yearly wellness checkup.
"Thyroid cancer is extremely rare for children to have so it was very scary," Cantley said.
Cantley had her first surgery in November of 2019 to remove the left side of her thyroid in hopes to clear her of all cancer. In 2021, the cancer came back to the right side of her thyroid. She had her second surgery to remove this side shortly after hearing the news.
Although she is in remission, going through this unimaginable experience taught Cantley to never take the small things for granted.
"[Being cancer-free] has made me a more positive person and has taught me to always try to see the good in things while trying to be optimistic about life's impossible situations," Cantley said. "This entire situation was a big learning experience."
Having the whole school go gold means more to Cantley than most people realize.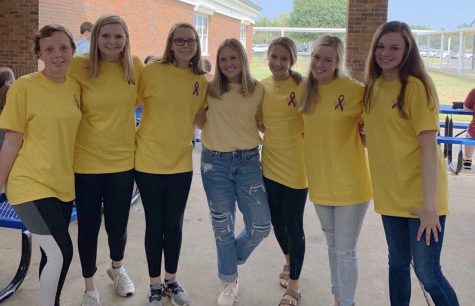 Back in 2019, a group of Cantley's friends surprised her by wearing gold shirts with her initials on them the day after she was diagnosed with cancer. This day happened to be during Childhood Cancer Awareness Month and was also Fairhope High School's annual Gold Out Day.
"It made me realize that this situation was real and it was actually happening, but it also made me realize that I have amazing friends who always support me and get me through tough times," Cantley said.
With it being the three-year anniversary of her original diagnosis, seeing everyone wear gold in support of the fight against childhood cancer makes everything come full circle.
"It's overwhelming and it's honestly hard to believe how fast time flies, but it also feels like [my diagnosis] was so long ago," Cantley said. "Knowing that I still have that same support system there means a lot."
Putting a permanent end to childhood cancer is not easy; however, there are many organizations that accept donations for extensive research aiding this cause. One of those is Children's of Alabama located in Birmingham, Alabama. All donations go towards helping The University of Alabama at Birmingham's hospital and their childhood cancer department.
By wearing gold, students, teachers and faculty not only support the fight against childhood cancer, but also the students who have taken on that battle first hand.