Fairhope, Daphne play in rival competition
October 13, 2022
Pirates Claim Rivalry Win
by Lulu Cowden, reporter
FAIRHOPE, Ala.- As the long-awaited Fairhope vs Daphne football game approached on Oct. 7 at W.C. Major Field, coach Vaughn Maceina, principal Jon Cardwell and cornerback junior Dixon Davis agree that this rivalry is meaningful for players, fans, and coaches.
Principal Jon Cardwell said although Foley may be Fairhope High School's oldest rival, Daphne is the most recent rival.
"The second Daphne High School was created it became our main rival," Cardwell said. "It means a lot because they used to be a part of Fairhope before its creation."
The players prepared intensely for this game. Coach Maceina, as well as all the coaches, always make sure the players are ready for every game they play.
"I think we are really prepared. Between film, practice, and meetings our guys should know what's going on and be ready to go," Maceina said.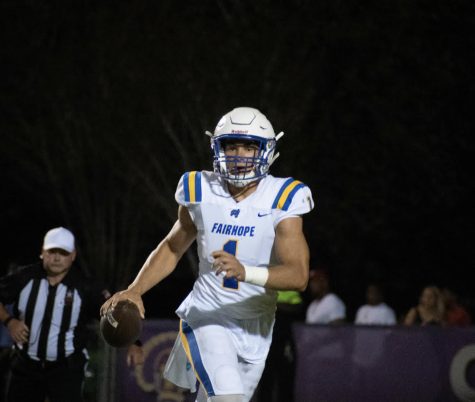 This game is always expected to be a close one, even when it is at home. Cardwell knows the intensity of this game and always wishes for a win.
"You can have a bad season, but if you beat Daphne, it makes everything all right, " Cardwell said.
The atmosphere of the Fairhope Daphne game is enjoyed by everyone and encourages the players and coaches.  The student section pushes the players to keep going even when the score may be close.
"My favorite part of the daphne game is the fact that we have so many fans show up regardless of the game being home or away," Davis said. "This amazing support creates a great playing environment."
Coach Maceina can always "feel the emotion" of this game year after year.
After a fun game, the Pirates defeated the Trojans 26-7,  and Head Coach Tim Carter gained his 150th win.