Seniors participate in Red Ribbon Week field day
November 2, 2022
Senior Field Day 2022: Kicking Drugs to the Side
by Isabella Fike and Abigail Dasinger, reporters
FAIRHOPE, Ala.-  Fairhope High School holds its annual Red Ribbon week in October; this year's Red Ribbon Week was Oct. 24-28. 
Senior Ceci Howard served as Red Ribbon leader for this school year. She wanted to encourage the nostalgia of field day in support of raising money for drug prevention week.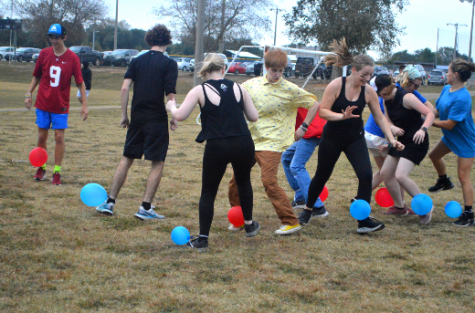 "I came up with the idea of the senior field day as a heart-healthy initiative for Red Ribbon Week," Howard said. "I wanted to raise money to prevent drug addiction while also giving the students a way to have fun. I thought about past activities we had done and thought the nostalgia of field day would be a fun activity to engage in our senior year."
Those participating were allowed to leave school fifth through seventh periods to compete at Founder's Field events. Students competed in dodgeball, kickball, balloon stomp, wheelbarrow race, three-legged race, tag, tug-of-war and then a final relay race against all teams.
Howard would love for this fundraiser to become a yearly event and hopes to pass the torch down to the next Red Ribbon leader. 
Students who participated were required to pay $5 for an entry fee. With this money, the school was able to raise $515 for the Hazel Betty Ford Foundation, a non-profit organization designed to help with drug and alcohol addiction recovery. 
This fundraiser was also a memorable experience for seniors to have fun and enjoy each other's company. 
Howard hopes she was able to give students a good time through heart-healthy fun.
Howard became interested in helping others by involving herself in Red Ribbon Week since she was in fifth grade, after participating in the drug bus. Horrific images of cancerous lungs caused her to be empathetic to those who were affected by the compulsive deterioration of their bodies. 
"I still vividly remember getting into the drug bus in fifth grade. It had been the Red Ribbon initiative that year to deter kids from drugs," Howard said. "I have carried that with me since; which is why it was so easy for me to decide I wanted to help to fundraise to prevent that from happening to as many people as I could."
This successful event will hopefully encourage a continuing tradition to kick drugs away.