Annual tree lighting event takes place downtown
November 18, 2022
Fairhope's Lighting of the Trees
by Ellery Scott, editor-in-chief
FAIRHOPE, Ala., Nov. 17, 2022–With the holidays just around the corner, members of the community gather to watch the trees of downtown Fairhope lit up by Mayor Sherry Sullivan.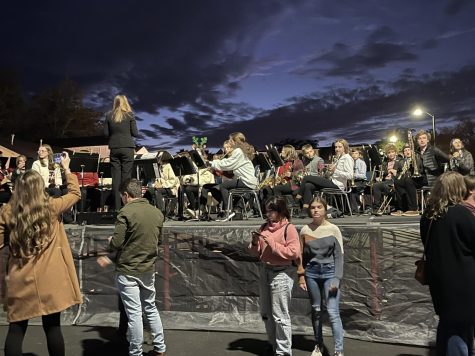 The 6 pm event included the famous lighting of the trees, a special holiday performance by Fairhope High School's and Fairhope Middle School's bands playing a Christmas arrangement, an appearance by the 2022 Dogwood Trail Court and the first snow of the year.
Starting in early fall, city workers strung up trees throughout downtown with lights, just like a Christmas tree, in order to have everything ready for the event.
The whole event was free and family-friendly.
The FHS band performed Christmas melodies at the corner of South Section Street and Fairhope Avenue in celebration of the upcoming holidays. FMS also showed their cheer by performing on stage in De La Mare Avenue in front of Mr. Gene's Beans ice cream shop.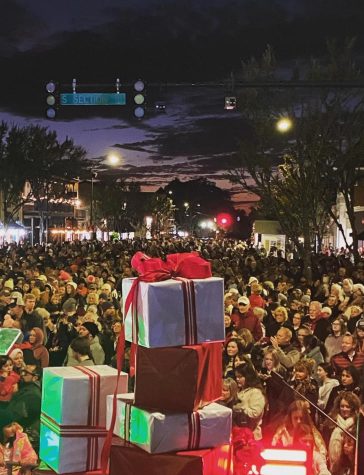 The Dogwood Trail Court made its annual appearance, greeting smiling faces and waving toward the crowd.
A large crowd gathered around as they patiently waited for the festivities to begin. When the clock struck 6 p.m., Mayor Sullivan lit up Fairhope as all of the trees downtown simultaneously came to life.
Along with the tree lighting, downtown receives its first (and possibly only) snow of the year as white flurries coat the streets.
The Christmas tree located in front of Mobile Bay Realty was turned on for the first time as well.
Talking and laughter could be heard as people walked around with hot chocolate and cotton candy. Stores and restaurants were welcoming guests after the trees had been lit.
Mrs. Claus even made a special appearance as she passed out candy canes and let the children write a wish list for Santa.
This tradition is loved by many and was certainly not to be missed this holiday season. The lights will stay on until the Mardi Gras season begins.