Senior Wrestler Ben Shaw prepares for tournament
December 8, 2022
Shaw expresses discipline learned through wrestling
by A.C. Ahrendt, reporter
FAIRHOPE, Ala.- As his tournament draws closer, five-year wrestler Benjamin Shaw possesses both the determination and character to succeed.
Shaw's coach Jason Heath believes wrestling has a major impact on individuals. Both Heath and Shaw agree wrestling teaches athletes to push themselves and try their best consistently.
"You learn discipline, self-motivation, sacrifice, self-control, mental and physical toughness, but most of all, it teaches you how to deal with and overcome adversity," Heath said.
Shaw appreciates the independence of athletes competing one on one. "I drill hard, and push myself in conditioning," Shaw said.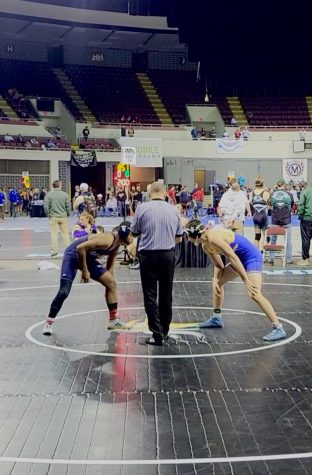 Skills needed to overcome adversity teach athletes like Shaw that every action has an effect, therefore it is important to be deliberate and mindful in training.
"I feel the most important qualities that a wrestler can possess are determination and mental/physical toughness," Heath said. "At Fairhope, we regularly seek out and wrestle the toughest teams, not only in this state but surrounding states."
Shaw and his fellow wrestlers prioritize developing an aptitude for hard work and trying their best at every practice and match. 
"My goal for the tournament this weekend, and for all the matches that follow, is to wrestle to my best ability and keep constant pressure on my opponents," Shaw said.
Shaw keeps in mind that if he always tries his hardest and exerts his best effort, success will come.
"I try not to get caught up with winning or losing," Shaw said.
In wrestling, because all of the pressure is on one individual, one of the hardest things to overcome is understanding losses are just as important as wins.
Wrestling not only teaches life skills but also creates fun experiences with teammates and coaches that will long be remembered.
"My favorite part of wrestling is the brotherhood and bond you create with, not only your teammates but other teams as well," Heath said. "Wrestlers share a mutual respect because they know the time and sacrifice that they have all endured."
Shaw tied two for two matches in his tournament, placing fifth.
Although not first, the effort and dedication Shaw puts into his wrestling show much more importance. Shaw will continue to push himself as the season continues and make the most of every moment.
Shaw is currently training and preparing for his next match to bel held December 8, at Foley High School.