Diamond Dolls begin inaugural season
April 17, 2023
Diamond Dolls take a whack at it.
by Lulu Cowden, reporter
FAIRHOPE, Ala.- A group of  girls wanted to share their love for the sport of baseball. What better way is there to do that than being a part of the team? Baseball teams all over the country are supported by groups of young women sometimes called Diamond Girls or Bat Girls, but at FHS, they are Diamond Dolls.
As this baseball season nears the end Diamond Dolls sponsor Erin Hendricks and junior Sadie Fidler share their enthusiasm about the inaugural Diamond Doll program.
Fidler wanted to be a part of this program in order to show her support and love for the sport. "My family and I have always loved baseball, and what better way to be a part of it than Diamond Dolls," Fidler said.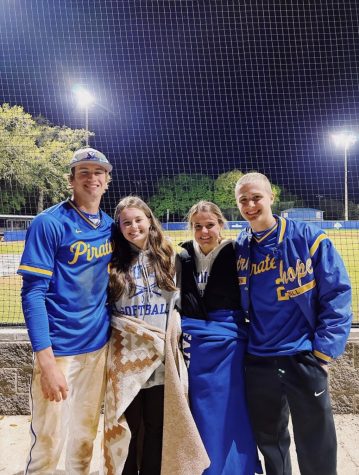 The Diamond Dolls are a group of junior and senior girls who help support the baseball team all season. This program is a way for more fans to get involved with baseball and show support for the team.
"The Diamond Dolls is an on-campus organization that works with the baseball team to promote the FHS baseball program, to help raise funds for the program, to work concessions, and to support the players," Hendricks said.
Along with helping the baseball teams, these girls are held to a high standard, including keeping their grades up and showing respect to all. They are representatives of school values and how everyone supports each other.
"A Diamond Doll is a leader who wants to show how appreciated the baseball team is and wants to cheer on the players," Fidler said.
Before the season even started they met multiple times to prepare. During these meetings, they came up with a schedule for the Dolls including their game attendance requirements and specific responsibilities before, during and after the games. These jobs include but are not limited to running the concession and scanning tickets. They also assigned a baseball player per one or two Dolls who would provide pregame gifts or treats before home games.
"The girls met several times in preparation for the season, and they look forward to interacting with players, parents, and fans," Hendricks shared.
Junior baseball players Clayton Noblitt and Dixon Davis have enjoyed receiving their goody bags. They both enjoy being able to see what they have received and saving some treats to celebrate after the game. "It makes it feel more like a game day," Davis said.
The first of many years to come, Diamond dolls will be taking their own swing at baseball.