Hope Blooms Fairhope changes its community one flower at a time
January 30, 2023
The Importance of Flowers
by Ellery Scott, editor-in-chief
With Fairhope being called "Flower Capital USA," it is no surprise that after an event is held, an abundance of flowers gets discarded. Leslie Presson at Hope Blooms Fairhope is trying to change the fate of these forgotten flowers.
Leslie Presson was diagnosed and battled cancer from 2019 to 2020. During treatment, she would receive fresh flowers almost every day, to the point that they would take up her entire kitchen. Seeing these bright colors encase her home reminded her that she wasn't alone in her journey; it was a source of hope in the form of a beautiful aroma.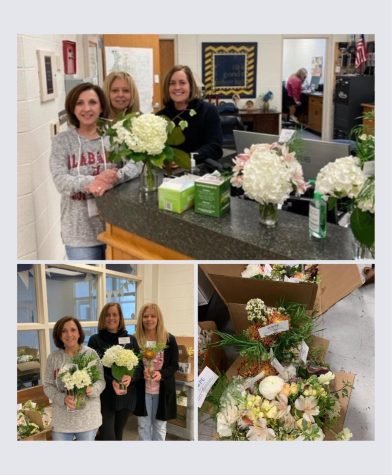 When Presson went into remission, she wondered about finding a way to glorify God while also giving back to the people who stood by her side. "Flowers kept coming back into my mind. People gave me so much joy through flowers, how can I repeat that?"
Presson's daughter got married in 2017 and she couldn't stop thinking of all of the flowers that went to waste after the wedding. She contacted Wildflowers Floral Design, the company that designed all of the arrangements for her daughter's wedding, and asked them what came from all the leftover flowers that hadn't been taken home.
To her surprise, most of the flowers were thrown away, as there was not much to be done with them.
It was this conversation that sparked Presson to start her mission of repurposing. When starting her mission, Wildflowers was the first company Presson asked about repurposing.
They loved her idea! She started reaching out to florists, event planners and venues and everyone had the same reaction.
"I had the logo in my mind and I couldn't sleep until I took action. Describing what's in your head to a graphic designer can be a little tricky."
She got eight people together for a meeting and Hope Blooms Fairhope was born. "Our mission statement is to bring hope to the community." It only seemed fitting that the word hope be included somewhere in the company title.
HBF has blossomed in just two years and has given away over 4,000 repurposed flowers.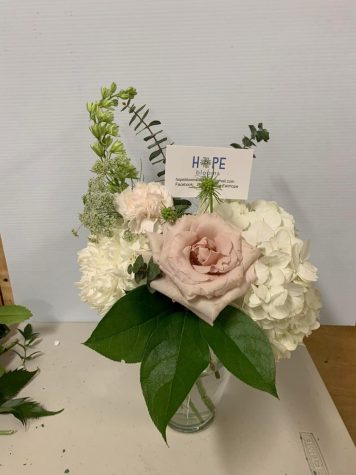 This project is community-wide and is not just limited to Fairhope. Over 250-300 people have volunteered to help out. Everyone from National Charity League to community garden clubs has helped out.
Presson's dream has come a long way, initially starting in her home, the company now needs a warehouse to hold all of its creations.
Pickup teams take the arrangements to the HBF warehouse on the weekend. On Monday, they clip and repurpose the flowers into donated mason jars. We take every flower out, clip them, and put them in jars. Everyone is welcome to help out.
The team then takes the flowers to hospitals, schools, shelters and everywhere in between. "I think [repurposing these flowers] brings joy and smiles to people who could use a little hope. We do it as big thank yous to teachers and staff. It brings a huge impact; more than we know."
HBF is managed purely on volunteer effort and they are always looking to include more people in this incredible opportunity. Those who are interested can contact Leslie Presson at [email protected] Students who are interested in volunteering can also gain service hours.
While flowers are temporary, there is no doubt that the effects of this small act of service will leave lasting impressions on this community.