Cassidy Frater involves herself at FHS
February 13, 2023
Fantastic Frater: She does it all
by Florence Beasley, Reporter
Sophomore Cassidy Frater involves herself in the different clubs and programs at FHS. She participates in the International Baccalaureate program, Marine Life club, Key club, and Diversity club.
Frater feels the programs and clubs at FHS can help her academic and social skills grow.
"I was drawn to the IB program because I knew I could excel in the program, and I could be set up for more success after high school or college if I took it," Frater said.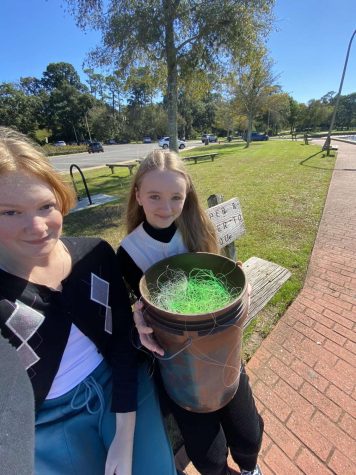 IB teacher, Catherine Coleman, supports Frater in class, "Cassidy has all the characteristics of a lifelong learner. She is attentive, curious, friendly, and open," Coleman said, "I know that she is engaged because she keeps eye contact and laughs at my jokes, " Coleman said.
With so much on her plate academically and socially, Frater has learned how to manage her time better. Being involved in so many clubs can be a struggle for some. For Frater, it's no big deal.
"I have learned how to manage my time in accord with the IB program and the clubs that I participate in, in order to have enough time to do school work efficiently and successfully, while also having time to attend club meetings," Frater said.
Working together with classmates is a learning experience most students should practice to better their social skills.
"My involvement in the clubs that I participate in has helped me be able to work with my classmates easier and take everyone's opinions into consideration," Frater said.
With that in mind, the diversity club has opened many doors of different perspectives for Frater.
Frater has always strived to be an advocate for what's right. From keeping the planet clean to educating herself on other cultures and communities, she finds it an opportunity to learn something new.
"The thing that drew me to diversity club was the opportunity to educate myself more about different communities of people around the world," Frater said.
Mrs. Coleman notices Frater's commitment in class when she is working. One of Frater's priorities is her friends and the people she loves.
"I know through her participation in class, and in IB, that she is a dedicated student and learner, so her grades, knowledge, and understanding are important to her. I would also be safe in saying that I think she is really compassionate and concerned for her friends," Coleman said.
Fellow Sophmore, Josie Rivera, couldn't agree more, "Cassidy is not only an exceptional student, but she also is one of the best people I know and I am so lucky to be able to call her my friend," Rivera said.
Students learn differently, and the programs at school for Frater have helped her keep in mind which ways to learn work and which don't.
"I keep in mind the ways that I learn best in order to succeed in school," Frater said.
With such a determined mindset, friends, teachers, and staff would agree that Frater is a fantastic student. Fairhope High School is lucky to have a student like Frater.