Exchange Students experience a new world
February 13, 2023
by Julia Vesterlund, reporter
Foreign exchange students and high school students both benefit from learning about the cultures and families of the international exchange students, while also having a great time together sharing American traditions. Being exposed to other cultures, ideas, foods and music opens our minds and helps us realize that there is a much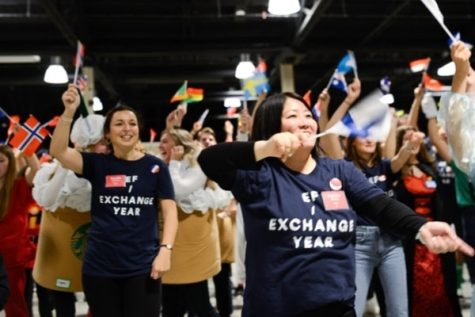 larger world out there. It's waiting for us to explore, nobody can explore it for you.
"I've wanted to do an exchange year since I was little. I've always dreamed of traveling around the world and discovering new cultures and people," Clea Mellier said. Mellier, a junior at Fairhope High school from France, has been in the United States for six months and loves traveling. 
Junior Vilde Groetli-Baekos of Norway had the desire to go on an exchange year for a long time. "I've wanted to go on an exchange year since sixth grade, because I was watching all these videos of people doing it. One of my family members had done it so I wanted to go too," Groetli-Baekos said.
Even though they may have planned and prepared for the year, leaving home and moving abroad to study can be a stressful experience. For example, social behaviors may be confusing, surprising or offensive. It can be helpful to know that your experience is actually quite common because culture shock often takes people by surprise. 
"Americans are more likely to talk with strangers and apologize often. Their bigger cars, huge stores, and huge amount of food was also a big cultural shock to me," said junior Taiwanese exchange student Zoe Haung.
Haung said most of the holidays are different.
"We don't celebrate Halloween, Thanksgiving or Christmas in Taiwan, and I have never heard of Mardi Gras before. It turned out to be really fun, just like in the movies I've seen," Haung said.
International students from all countries currently at FHS agree that high school rigor in America tends to be easier than in their home countries. The majority of the tests here take less than 30 minutes and have multiple option questions. American students place more time on sports and activities, and less time on studies. 
Hannah De Graauw from The Netherlands is a Junior at FHS. She said there are definite differences with the American school system. 
"Back home we always had a different schedule everyday, we had an app to see where and what class we had to follow for the hour. We also don't have sports or clubs in school," De Graauw said.
The melancholy exchange students sometimes feel when they're separated from their family and friends is known as homesickness. They may experience it in a variety of ways. Ninety-two percent of international students say they miss their families at home while studying in another country, according to Business Wire. 
"I miss my family and friends. Not seeing them is really hard. I have contact with my mom and friends every day. We always text each other about how our days are going and if there's anything special happening," De Graauw said.
Being away from family is not the only thing they miss. There's a few cultural and environmental factors that they may prefer in their home country. 
"I miss being able to walk places, and not being dependent on driving everywhere. With public transportation it was always easier to get to places," Groetli-Baekos said.
As an Education First exchange student myself I know what homesickness feels like. It's very different for everyone when homesickness may occur, but mine occurred three months into the year. Even though I knew that I would meet my family in a few months there were still feelings that built up. If you don't learn how to feel less homesick it's going to be a really hard year for you. That is why I tried to maximize my communication with my family once a week. 
What also helped was thinking that this is only one year of my life, and that I will get memories that'll last a lifetime. The best thing to do is have fun and enjoy time with your new friends while you are here and stay in touch with family and friends back home.