Guide for Graduation
April 20, 2023
A Student's Guide to Graduation: 2023 Edition
by Julia Vesterlund, reporter
FAIRHOPE, Ala.- With the 2022-23 school year coming to a close, graduation for seniors is just around the corner. Included below is everything you possibly need to know if planning on attending this special event.
Graduation is a significant moment in a student's life. Friends and family attend from different places just to see them graduate. Therefore it's essential for everyone to know where to go and when to get there.
Fairhope High School's Class of 2023 Graduation Ceremony will be held on May 18, at W.C. Majors Field and will begin promptly at 7 p.m.
"The best way [to get there] is to come in on 98 and take a right on Veolanta," said senior counselor Mrs. Treavie Ainsworth.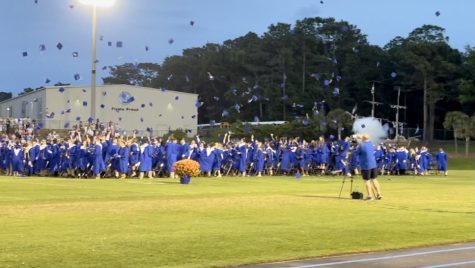 It isn't finding where to go that is the main issue, but figuring out how to get there. Due to the newly built T-Ball fields, parking will be more limited this year than in previous years.
"Parking is going to be an issue, so if you can carpool at all that would be the best thing to do, and get there early," Ainsworth said.
The weather is unpredictable and there's always a chance of bad weather like rain or a storm.
"[If it rains] Mr. Cardwell will hold graduation until the rain passes in order to avoid having to leave the stadium. Most of the time we look at the radar to see if that's going to be necessary," Ainsworth said.
Graduation starts at 7 p.m., but people arrive as early as 5.30-5.45 p.m. You can park the car, get into the stadium, reserve your seats and go back to sit in the air-conditioned car all before the ceremony starts, if you want to. It is important to note that there are no assigned seats, so as long as no one's items are on the spot, it is free. There are also no tickets required for access to the ceremony.
"Bring a hand fan, because sometimes it can get very hot. We don't do concessions so it's important to bring water," Ainsworth said.
Enjoy your time, this only happens once a lifetime and stay hydrated!