Fairhope Outdoor Farmers Market offers fun for all
May 12, 2023
Come and explore all the festivities of our local market!
By A.C. Ahrendt, reporter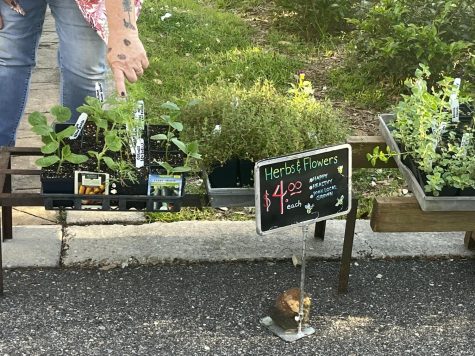 FAIRHOPE, Ala. -The Fairhope Outdoor Farmers Market is a seasonal outdoor market behind the Fairhope Public Library every Thursday from 3-6 p.m.
The market takes place April through July and picks back up in the fall, September through November.
Small local businesses participate by selling their creations. There are a variety of items, including local produce, honey, plants, baked goods, handmade soaps, gifts, jams, smoothies and more! There are also food trucks and live music on site occasionally. Once, a family even brought their golden doodle's litter of puppies for adoption.
MJ's Jams and More is one of the small businesses that showcases its passions in the market. "I have a cottage business, meaning I produce items people can use in their homes," said the owner of MJ's Jams and More, Joy Hunter. "Raspberry Amaretto is my favorite jam, hands down."
Mushroom Man Tan is another business, rather a man, who got started when he was a chef, wondering where his ingredients came from. "So I got in the woods, and I learned how to forage. Now I grow and sell mushrooms to restaurants," said owner Tanner Hammond, who works out of the shed in his backyard. "I grow all different kinds of mushrooms: oyster mushrooms, lions mane, chestnuts, probably about ten species in all."
Along with mushrooms and jams, there are businesses selling freshly baked goods like french macarons or breads. "I have a french macaron business… because I just wanted to have a passion for myself after having my baby," said the owner/operator of the macaron business Lisa Grates. Grates started posting on social media, and it just took off. She learned how to make macarons two years ago, and now has a full time job doing vendor events, markets, festivals, corporate events, private orders, birthday parties, weddings and has even worked for Coca-Cola.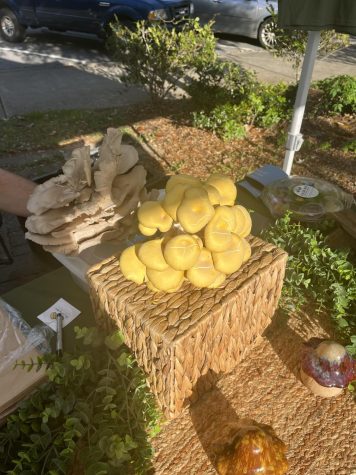 Lyrenes Blueberry Farm consists of a mother and son who love berries. They sell blackberries, blueberries and vegetables. "And my mom grows a few flowers to go along with it," said owner Thomas Lyrene. Lyrene and his mother agreed that their favorite part of their business is eating the product.
Sean Ogleton is a man from Antigua who sells the most delicious and refreshing tropical smoothies. He appreciates talking to all of his customers and making friends. His business is called Sean's Smoothie Shack. Ogleton can create anything that his customers may have in mind, and he'll share a smile too.
The Fairhope Outdoor Farmers Market has everything, and the parking area behind the library provides the perfect location for local businesses to showcase their natural creations.
Fairhope's beautiful landscapes allow for prospering natural plants, and this market takes advantage of them all, providing fun for the whole family.