Advanced Placement Art exposes young artists to opportunities
May 11, 2023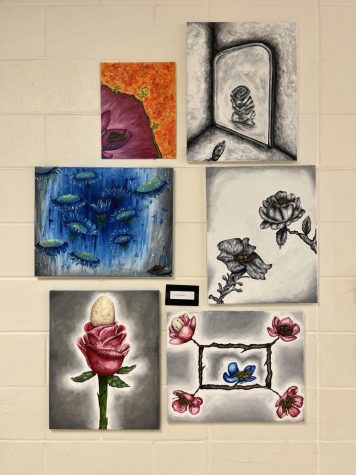 Two students' perspective on AP Art
by A.C. Ahrendt, reporter
Advanced Placement [AP ] Art is a high school class designed to introduce students to the rigor and creative opportunities of what an art course in college would be like. Students must have earned prerequisite art credits and preliminary skills to enroll in the class. AP Art gives high school students the opportunity to explore their artistic capabilities amongst peers with matching eagerness.
Each artist is required to form a two part portfolio. "The first part is the sustained investigation that is to explore a guiding question which is the focus," said sophomore AP Art student Meredith Bates.
Bates goes on to explain that AP really wants to see the process and how an artist thinks. The second portion is the "Selected Works, which are the artist's five best pieces of all time, and these can be in the sustained investigation as well," Bates said.
Art is undoubtedly an expression of artists and how they view aspects of their life experiences. Junior AP Art student Lena Amare values the experiences gained through the course.
"AP art is an opportunity to spread awareness. I used my art to exhibit an issue that I deemed necessary to solve," Amare said.
AP Art includes having a focus for one's portfolio. Bates formed the focus "around the question of how perceptions of life and death make each of them more meaningful." With this, she explored contrast in subjects, mediums, and colors.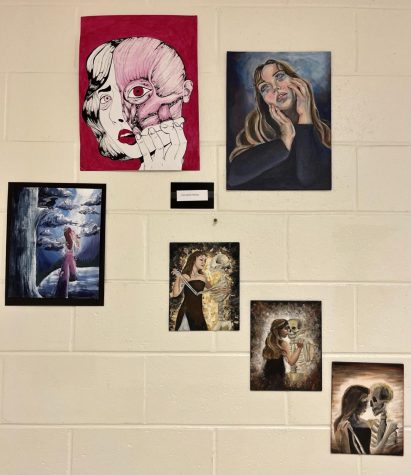 Amare's focus question was "How can I portray flowers and colors to narrate an example of a disposable (or consumeristic) society?" Amare included nature and man-made objects, and how they affect one another.
Amare notices that when she is in her quiet and less busy alone time, she creates and plans best. Oftentimes she comes up with ideas right when she is about to fall asleep.
"I like drawing and painting as it is an area of my life that I do not push for perfection in," Bates said.
Through her studies of art history, Bates has realized that the pieces she is most drawn to are not always the most rendered, or the most realistically 'correct. She has sought to allow herself some freedom in what she creates.
AP Art possesses the complex and difficult aspects similar to AP classes, but also encourages and leaves room for the students to grow and question why and how they are learning and creating.
Whether one wants to become a professional artist or paint as a hobby, AP Art exposes students to the assignments,  environment and experiences of a college art course.