Local jobs that work for students
September 13, 2022
Jobs that Work for You: Chick-Fil-A
by Jillian Surla, reporter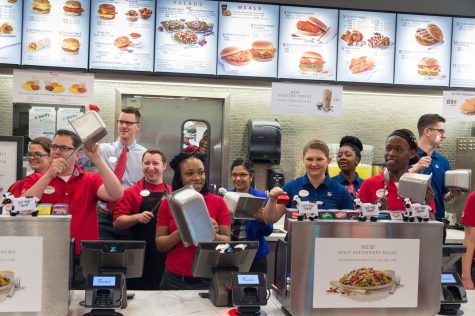 Chick-Fil-A of Fairhope took my pleasure to the next level with their fantastic scholarship opportunities. Giving back to students and staff is always their top priority.
"We [Chick-Fil-A Team Members] cook amazing food and make new friends from different schools. Plus, we learn a lot of work ethics," said Nate Casallo, a blue-shirt manager of Chick-Fil-A.
Aside from the delicious free food for team members, Chick-Fil-A offers Remarkable Futures™ Scholarships to their employees. There are two options of scholarships, the Leadership Scholarship, which grants $1,000 to $2,500, and the True Inspiration Scholarship, which grants $24,000.
"We are offered scholarships that we can apply for and [we are] offered real hands-on work experience," Casallo said.
Instead of writing an essay, Chick-Fil-A's requirements are working there 12 months prior to the application and having a 2.5-grade point average. The scholarships are used to go to any two-year or four-year college, university or technical/vocational school in Chick-Fil-A's network.
"No, I would say [it is not difficult to obtain a scholarship]. They give loads of scholarships a year," Casallo said.
Chick-Fil-A is a wonderful place for students to work, with many positives. While getting paid from $8.50 to $16.97 an hour and having the opportunity to obtain scholarships, the "normal work week for students ranges around 20-30 hours every week. Team Members also always get Sundays off, which is a major plus.
"It [Chick-Fil-A] has loads of offers and opportunities that other restaurants may not have," Casall0 said.
In the spring of 2022, over 12,000 Team Members received $25,000 scholarships, amounting to a generous $9 million spent. Chick-Fil-A's extensive network of colleges allowed them all to go to the schools of their dreams.
So, apply on the Chick-Fil-A website for "Mor' Chiken" and more scholarships.