Seniors take chances during senior casino night
May 17, 2023
Luck of the Draw
by Jillian Surla, reporter
FAIRHOPE, Ala.–Rolling dice and betting chips, Fairhope high school's 2023 seniors gambled together in a fun-filled, exciting event on May 15. The event, Senior Casino Night, is parent-led and has been a tradition for over a decade.
"I wasn't really expecting much when I first heard of it, but now that I'm here, I'm having a lot of fun and I'm really glad I came," senior Ryder Wilkins said.
Upon entry in Oak Hollow at 6 p.m. for hosts or 7 p.m. for regular seniors, seniors received a free cup of chips to start off their night. They used them to earn more chips, which would be converted into paper vouchers used to bid on prizes at the night's end.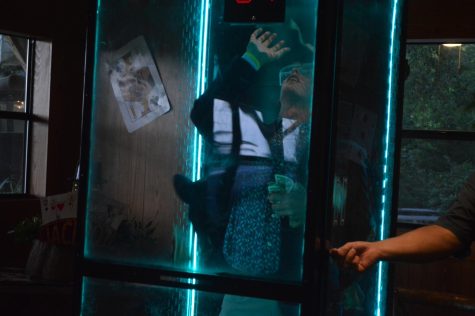 "I won a small traveling suitcase, and a lot of the prizes can be used in a college dorm, like that TV," senior Lora Beeco said.
Some seniors decided to become hosts of the event, which required a $2 hundred fee but had many benefits. For one, they could contribute to one of the last things they would do together as a class. Additionally, they attended the event an hour earlier, started with more chips and had time in the money machine.
"I got $45 in the money machine. It was way more fun than it looked! It was just a flurry of paper and I really wasn't ready for it. But I just started stuffing it into my pockets– I have two pockets, so I used them," Beeco said.
At the event, there were a few tables set up with stationed dealers to help guide and teach the seniors. The games ranged from Blackjack to Texas Hold'em, and seniors lamented how difficult it was to cut into a game.
"I've played a pretty good amount. All I've played is Texas Hold'em. It's been fun, a lot of fun. Luck is definitely a major factor, but it also does take a little bit of brains," Wilkins said.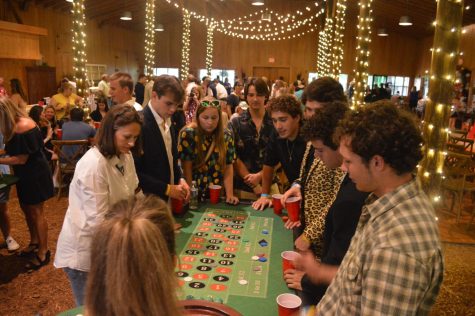 Gambling isn't gambling without losing a few rounds, though. Wilkins had been playing Texas Hold'em with Beeco when he caught on that she never bluffed money. In a round, he forgot about her tell and called her on a bluff, ending up losing most of his money.
"I was running on literal fumes, but I finally got a lucky hand back. In which case, I got a lot of money 'cause I managed to run 'em up and make 'em think I was bluffing again. But, I mean it worked out," Wilkins said.
The event was a final send-off to the seniors. They spent time with their peers, made memories, gambled safely and won amazing prizes. It's no wonder it's a tradition because the seniors had tons of fun, together as the class of 2023.