Prom 2023 to be held at Belforest Pointe
May 5, 2023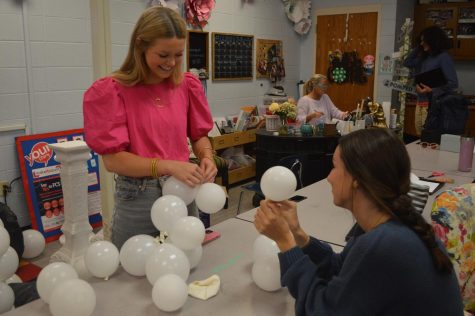 Greece on the Mind
by Jillian Surla and A.C. Ahrendt, reporters
FAIRHOPE, Ala.–Fairhope High School's Prom 2023 will be hosted at Belforest Pointe in Daphne on Saturday, May 6, at 6 p.m. Attire, decorations and food will be Greek themed. Seniors celebrate the end of their high school journeys while juniors move toward their final year, in a Greek-themed dance.
Each year a theme is chosen. The Greek theme will involve a balloon arch with Greek columns, Greek hors d'oeuvres and other Greek decorations. Themes can steer guests on what to wear and coordinators on how to organize the event.
Traditionally, a Prom King and Prom Queen are selected by the prom attendees. The 2023 royalty will be revealed during the event.
Event planning teacher Elizabeth Orfanello serves as the event coordinator. "The event planning class helps plan prom. Next year, we are going to try to implement the juniors, actually, in taking more of a role of planning and getting the juniors to physically help with decorating prom so when you're a senior, you won't have to do the physical work," Orfanello said. 
The seniors and juniors, along with the event planning class and a few generous teachers plan prom each year. Orfanello said she just thinks "prom is a right of passage." The students who carry out the planning and decorating enjoy making the event happen. 
Email Principal Jon Cardwell at [email protected] and Mrs. Elizabeth Orfanello at [email protected] for inquiries regarding the theme and prom royalty.
******

Fairhope High School is an institution with the mission of fostering integrity and academic excellence in each of its students while forming fond memories for people to look back on. Fairhope High School believes every student matters and deserves the opportunity to flourish into a purposeful, successful and happy individual. The strong academic climate at Fairhope High School has a variety of clubs, sports teams, organizations, core classes, art and theater courses and more that form independent and cooperative human beings.