Fairhope students perform piano recital
May 11, 2023
Keys to Success
By Jillian Surla, reporter
FAIRHOPE, Ala.–From tearful to joyous, the Fairhope High School piano students performed their recital on May 8. They worked for months to perfect their skills, both in and out of school as it finally came to fruition.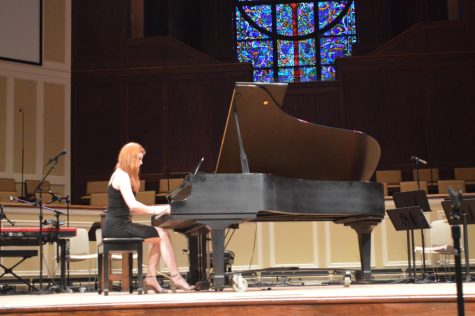 "They're well prepared. They had their recital pieces for plenty of time before this event to learn their piece, to perfect them. And about two to three weeks prior to tonight's date, they were ready so they wouldn't fall apart on the stage," said piano and chorus teacher Diane Ham.
Their pieces range from many different composers, emotions and difficulties. The composers are not all classical, however. There are a few known classical songs performed, such as the bittersweet "Claire DeLune," played by Rawlin Hoffin, a Piano 4 student.
"I'd say that the songs are very emotional. To me, what makes a song emotional is if it's slower. I'd say the slower pieces are the most emotional. The fast pieces can be too, but I don't really think they normally are," said sophomore Trinity Lewis, a Piano 1 student.
The piano class has four different levels, the higher the level, the more advanced the pianist. This year, John Thomas Freeman, a Piano 4 student, received a scholarship for his outstanding skills on the piano, which was commemorated when Ham gave him an award after the recital.
"I have a saying that practice doesn't make perfect, it makes permanent. So, the more you practice, the better you become at anything," Ham said. "This life skill helps a lot of my students excel, both on the stage and in their future, no matter if they pursue music or not."
Practicing and knowing the piece is only a portion of preparing for the recital. Having confidence in their capabilities and removing nervousness is also an important aspect. A week before the recital, Victoria Hardy, a Piano 2 student, remembers Ham instructing her to remove the word "nervous" from her vocabulary and replace it with "excited."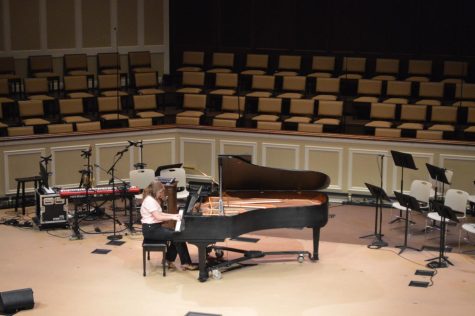 "And it's like, if you're excited instead of nervous, then you will do well. If you're nervous and so nervous about messing up, then you will mess up," Hardy said.
Piano to the students and teacher is not just about learning how to play a song. It's about learning a valuable life skill that teaches discipline, confidence and responsibility. It's not a snap of the finger and it is not instant, it takes constant practice and dedication to the craft.
"Piano teaches students what it takes in life to get something truly magnificent–hard work. That's the difference between mediocre and excellent. It's just hard work," Ham said.