Pirates wrap up first week
August 30, 2022
Fairhope High School starts new school year on a positive note
by Ellery Scott, editor in chief
FAIRHOPE, Ala.–High school students and teachers started the first week of the 2022-2023 school year. Teachers, students, and staff conveyed their excitement about their first few days of school and how everything is going.
First up, our lovely teachers told us how their experience last year differs from their experience within the first few days of school this year.
"The difference between this year, I think the freshmen coming from middle school know what to expect when they get here. So that makes our job easier," Pirate Volleyball Coach Trae Collins said.
Djamel Bouriche teaches French and has been on the FHS staff for seven years.
"This year is different because we do not have covid anymore so we are trying to go back to normal; therefore, our expectations are higher," Bouriche said.
Shifting them [students] from "what do you like" vs "what do you need" is a focus of Nicole White, sophomore class counselor.
"For me, instead of just focusing on kids passing freshman year, I'm now looking at their trade school opportunities and trying to encourage them towards careers and dual enrollment and things that are a little heavier than just "do you want to" or "take art or Spanish," White said.
Students seem quite positive about the start of the school year. Freshman Elizabeth Blackburn said she likes her teachers and her first week has gone well.
"All of my teachers are pretty awesome and definitely listen to students. The work has been surprisingly easy but there's a lot of it. Especially with AP and Honors classes. There's a lot of just reading and annotation," Blackburn said.
Senior Grace Worsham agreed with Blackburn about the start of the school year.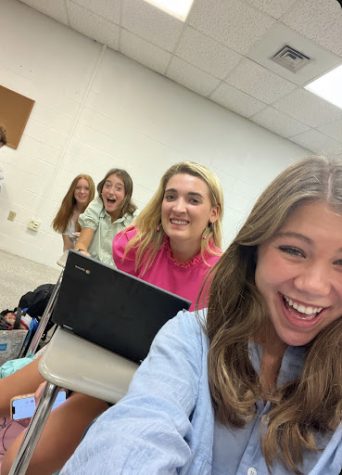 "First day of school was good. My classes are pretty easy, and I got all my work done on time. AP government has been very hard, but art and band have been very easy," Worsham said.
Zoe Huang, a new student from Taiwan, has never attended a U.S. school. This new experience differs from the expectations she had coming into the new school year.
Speaking of expectations, Blackburn said this is the first year where the weekend ended and she had no sense of dread.
"This is the first year where it's been actually enjoyable to come to school and I'm excited because of A) the content and B) the people," Blackburn said.
Although students are a huge part of the first day of school, nothing would be possible without the planning and preparations by the administrators.
Mark Wilson serves as the Freshman academy principal and said the first week went really well.
"The advice I would give to the freshman class is to stay on top of your classwork and not get behind. Playing catch-up is a lot harder in High School," Wilson said.
FHS principal Jon Cardwell agreed that the start of school went well, but as expected, it had its challenges also.
"Parking, the carline, talking with parents, mostly just getting kids to school [was a challenge], " Cardwell said. "The problem wasn't as much the students as much as it was just procedural. The seniors and juniors actually filled up the paved parking lot pretty quick, and we had to move to the gravel."
Cardwell expressed his excitement about the new Agriscience program. He said some teachers who have not been at FHS in a while are returning and spoke highly of the 2022-2023 faculty and staff.
That's a wrap on the first week of school. Students, teachers, and The Pirateer are thrilled about this new year and cannot wait to see what it has in store!