If You Like It, Then You Shoulda Put a Mask On It
This fall, there's a new addition to the school wardrobe. Masks are now not only a safety tool but a fashion statement. Short shorts are no longer the main focus of the halls. No mask, no class!
When returning to school this fall, students had one more dress code rule to consider. Last year, the big issue for the girls was shorts that were too short and t-shirts that were too long. In the interest of our health and safety, the biggest issue in fall 2020 is: Do you have a mask? Just because we have to wear masks doesn't mean they have to be boring. We wanted to feature some great masks seen on campus/sporting events and tell the story of how and why. Mask up, people!
There's a special mask story that began before the rest of us were thinking about coming back to school.  Betty Gogel of Dazzling Reflections Rhinestones is used to creating fabulous costumes for twirlers throughout the Southeast. Consequently, when her granddaughter, Sydnee Cantley, was diagnosed with thyroid cancer last year, she shifted gears to creating masks that could protect AND be fabulous.
Why did you start making masks?
"We started making them when COVID started happening in our area. Masks were no where to be found, especially for doctors offices, nurses, hospitals, and people in our community. It was a way for us to pay it forward. To help others protect themselves- to give them something they needed."
How many masks have you made?
"I quit counting after 1,000 masks, but if I had to guess, we have made over 2,000 masks."
How has this affected business?
"This has affected business a lot. Most of the events that we normally design costumes for were cancelled, but some were not- we still designed for those events. Things are slowly picking up and we are still making masks."
Are you still donating some of the proceeds to Thyroid Cancer research?
"We didn't ask money for the masks, we just told people if they would like to donate to the fundraiser that we created for Children's of Alabama Cancer Research, we would greatly appreciate it. It is where my granddaughter had her cancer surgery at and it was our way to pay it forward for all they did for us- making her cancer free. We raised close to $3,000 for Children's of Alabama Cancer Research by selling masks and all proceeds went directly to UAB Children's of Alabama. Even though September is Thyroid Cancer Awareness Month, we did all that we could to help all year round."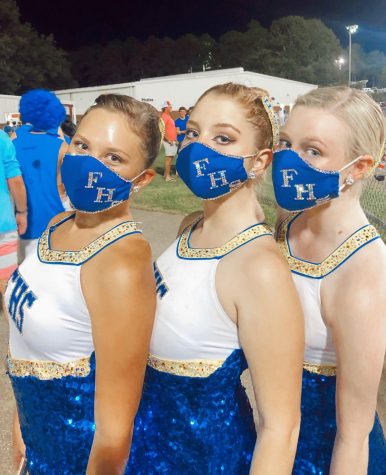 If bedazzled masks aren't your thing, check out some of these unique masks worn by students and teachers at FHS.