COVID Won't Stop the Beat: The 2020 FHS Dance Showcase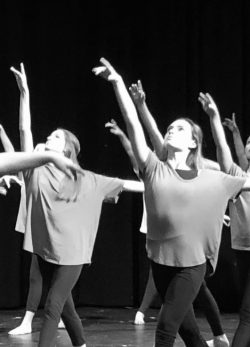 The Fairhope High School's Dance Collective is still pirouetting through COVID and it's setbacks. 
This year, moving to the music was a little harder than normal for the FHS dancers. With mask mandates and social distancing in place, we were all left wondering how to continue doing the things we loved with as little change as possible. The Fairhope Dance Collective Artistic Director, Cody Rawlinson, was determined to keep his team dancing, no matter what.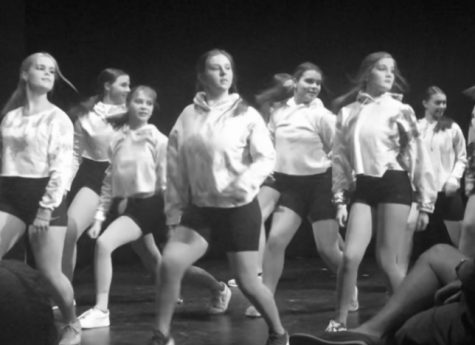 We were all wondering how the members of the team going to continue dancing with all the new rules and regulations in place? "To start off the year, our summer rehearsals were via Google Meet. I have very talented dancers, but nothing can replace the in-person experience, especially with a visual art like dance," Cody Rawlinson told The Pirateer. When asked about how practices at school were going, he added that "…practices have been different this year. All members wear masks throughout the entire rehearsal process and adhere to 6-foot boxes when not working in formations. They have only taken the masks off for the dress rehearsal recently. With the A/C going out two different times this year, I like to tell them that they are conditioning their lungs for the mask-free performances." 
Rawlinson gave us some insight into how the team's dress-rehearsals for the showcase were going. "Dress rehearsal went great! We had a small "warm-up" audience, and I believe we are ready for the shows this week." 
Rawlinson added that "(His) favorite part about starting a dance showcase is that it really displays the different talents of these performers. We have lots of well-rounded dancers at this school!"
We also decided to reach out to a few members of the Fairhope Dance Collective to ask them some questions about the showcase and get their opinions on how things have been going this school year.
How long have you all been rehearsing for the showcase?
"We started working on our routines back in July during our virtual camp." (Sydnee Cantley, 10)
"We have been rehearsing for showcase since the beginning of this school year. We had google meetings over the summer where we would learn some choreography, but we really began rehearsing when school started." (Laney Parks, 11)
"We have been rehearsing for the showcase truly since the year started. We started learning the dances through Zoom calls in August but really started getting down to the wire learning the dances in the past 4 or so weeks." (Piper Reed, 10)
"We have been rehearsing for the showcase since late summer and every day up until the showcase, we pretty much don't stop!" (Belle Sansom, 9)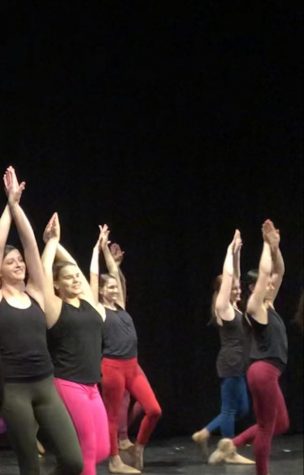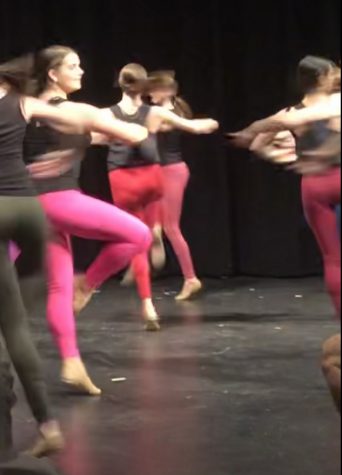 How has COVID-19 set you back in terms of practicing (masks, social distancing, etc.)?
"We didn't get to have in-person dance camp back in July, so we had to learn some of our routines virtually. We always wear masks and we are spread apart as much as possible during our practices. Due to Covid, we don't have as many performance opportunities." (Sydnee Cantley, 10)
"Wearing masks while dancing has definitely been quite difficult. It's hard to train your lungs to breathe differently, because whenever you are doing something athletic you are breathing much harder in a mask than you would without a mask. Also, social distancing at the beginning of the year made it difficult to stage different dances and create formations. However, this team is extremely smart, hardworking, and flexible so we were easily able to adjust." (Laney Parks, 11)
"Covid-19 has made it tough to practice dancing considering we have to wear masks while practicing and that makes it hard to breathe (obviously). But wearing a mask is kind of fun at first because for the showcase we are not wearing masks and it is really fun – and weird – to finally see everyone's faces!" (Piper Reed, 10)
"COVID has set us back by having people out unexpectedly (if they are out during the performance then we have to re-block) and wearing masks (which makes it really hard to breathe while practicing)." (Belle Sansom, 9)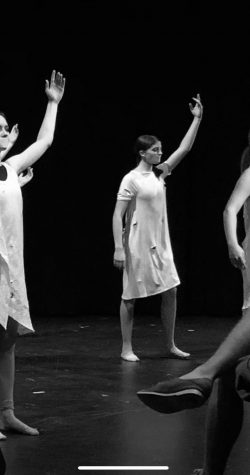 How did the idea to do a showcase come to be?
"We always wanted to have a showcase but Covid and social distancing almost forced this not to happen. Thankfully, we can follow guidelines and have this performance." (Piper Reed, 10)
"So, I have been on the dance team for three years now, and we originally started out as performing at basketball games and pep rallies. However, we all knew that we enjoyed performing onstage much more. Also, I know that Cody enjoys producing shows a lot more than he does creating halftime shows for basketball games, so the idea came about and we all ran with it." (Laney Parks, 11)
"Mr. Rawlinson loves us so much and believes in us like nobody else, so he came up with the idea and wanted it so bad for all of us that he was willing to do everything in his power for us to be able to "showcase" our talents." (Belle Sansom, 9) 
What has your favorite part been in terms of practicing and performing?
"My favorite part of all of this is the fact that I am pushing myself a little bit out of my comfort zone. I am a competitive baton twirler, so I'm used to performing with a baton in my hand. Dance has pushed me to learn new things and has given me the opportunity to meet some awesome people. I am so grateful to be on an amazing team!" (Sydnee Cantley, 10)
"My favorite part has definitely been the stuff behind the scenes. Learning new dances and preparing them for the stage will always be fun for me because I am constantly getting to learn more each day. Also, I have loved getting closer with my team. They really are some of the best friends anyone can have because we all share the love of dance. I love performing, but the practices and relationships made behind the scenes will always be more important to me." (Laney Parks, 11)
"My favorite part in practicing and performing these dances is learning all these new styles of dance and being able to have fun and relieve stress in a very stressful time. It is fun to just dance with friends and together create something beautiful which I believe the world desperately needs right now." (Piper Reed, 10)
"I think my favorite part of practicing was when you would learn a new dance, then get the entire part that you learned right for the first time. It makes you feel so accomplished and motivated to keep going!" (Belle Sansom, 9)
Although faced with many challenges and setbacks, the FHS Dance Collective has remained to do what it does best: putting smiles on faces and keeping our students moving