Project Prom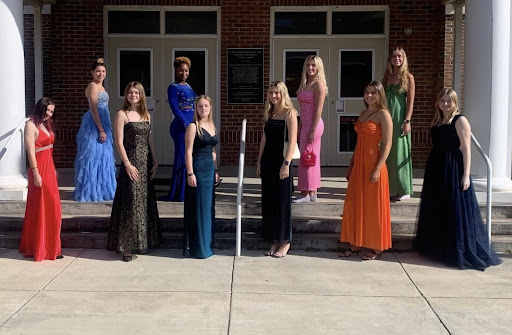 It's almost that time of year again! With prom just around the corner, the ladies of Junior Auxiliary of the Eastern Shore in partnership with Fairhope High School are giving beautiful prom dresses, shoes, and more back to the community.
We see them every day when walking into school: the stunning dresses on display for one lucky student to take home. It got The Pirateer thinking, what is Project Prom? We spoke to Kristie Davis, the sponsor of Future Business Leaders of America at FHS, to get the scoop on this unique event.
What is Project Prom?
"Project Prom was started five years ago by the ladies of Junior Auxiliary of the Eastern Shore as a way to reach out and help students in need of a dress for prom.  The ladies of JAES collected dresses from all over Baldwin and Mobile counties. The first year, there were a few hundred dresses to choose from, but that amount has grown tremendously each year. This year, the ladies of JAES have collected approximately 1,000 NEW and gently used formals to choose from as well as jewelry, shoes, and purses. There are hundreds of new dresses that have tags."
Who helps with this project?
"The members of FBLA-Future Business Leaders of America have assisted in sorting and hanging the formals in preparation for the event. The students of Ms. Davis' Internet Marketing class have been creating social media posts to advertise the event. Those students have created a display in the gym lobby area as well to draw attention to the event.  The day of the event, members of FBLA will be assisting with set up,  assisting students "shop" for the perfect prom look, and hanging dresses."
Who and how can people donate to this project?
"ANYONE can donate! Dresses can be dropped off at the front office until Feb. 18th.  We are asking for long dresses, jewelry, shoes, purse, etc. all items must be clean and free from stains."
How long will Project Prom last?
"The event will be Feb. 19th in the Dance Room from 9am-1pm."
Don't forget to stop by and shop! "ANYONE in Baldwin and Mobile county is invited to come "shop." (There are) new and unique dresses that you will not find anywhere else! This is not just for those in "need." This is for anyone that wants a unique look that will not be like anyone else at prom!"
A big thanks to the Junior Auxiliary of the Eastern Shore and FHS's FBLA for this wonderful project! We know that these dresses will surely help to make someone's special night one to remember.
Make sure to follow Project Prom on Instagram @projectpromjaeasternshore