Fairhope football lays foundation for season
Pirates claim scrimmage victory
By Mackenzie Hartzog, reporter
FAIRHOPE, Ala.– The May 12, pre-season game against Pascagoula High school held at Volanta Park, set the stage for the upcoming Pirate season. The annual spring game foreshadows the upcoming generation team and allows for graduating seniors to watch their former teammates compete. It also highlights weak areas the team might have and can work on before the official season.
Upcoming senior Preston Godfrey has played football for ten years. Throughout his athletic career, he has never played quarterback but is eager for the new experience.
"I know it's going to be something new because I have never played quarterback before; however, we are going to keep pushing and fix our mistakes throughout the season," Godfrey said.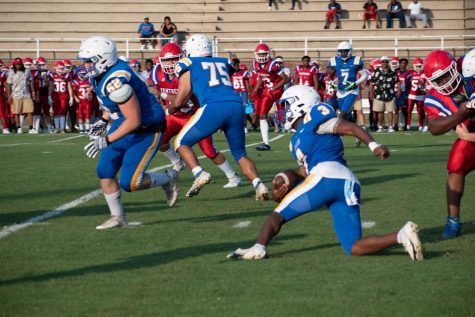 Godfrey has worked hard preparing to be recruited by colleges. Throughout his training, he remains motivated spiritually and pushes himself to success.
"I do it all for the glory of God," Godfrey said.
Rising junior Desmond Thomas has played since kindergarten, ten years. Going into the game he planned on winning, encouraging his peers while also performing to his best abilities. Football is important to him as it allows him to express his emotions and the exercise benefits.
"My [favorite] part is probably scoring, winning," Thomas said.
Both Godfrey and Thomas cherish the relationships and bonds they have created throughout their athletic career. Senior and former teammate Sha Sha Brown has started for Fairhope's varsity football team for two years but could not for the rest due to a previous knee injury. In the beginning, Brown was most excited to see how the players have grown and developed more in their skills.
"It was great watching them play and seeing how they have grown over the spring," Brown said.
With a successful game ending in Pirate victory, this year's season is bound to be victorious.
"Friday the guys really did put on a show and I was proud leaving the field knowing that the guy have gotten better," Brown said.
Uprising seniors have shown promise in holding onto the legacy of the Fairhope football team. Both the 2023 graduating class and alumni are eager to watch them succeed. With the training over the summer, the fall season is going to be successful.