FAIRHOPE, Ala. – Key Club sponsored the Life South Blood Drive in the FHS Library to start off the month of November. Students and staff volunteered  to give blood for those in need.
Junior Kylie Hester was proud that she was giving blood. 
"I wanted to do the blood drive for [community service]  for FHS and to save people who need blood," Hester said. 
Life South has been operating blood drives for 15 years and  brought phlebotomists to take blood from donors and assist students and staff after they donate to make sure they are ready to leave the area. Life South gave a $20 E-gift card to all donors. 
School nurse, Taylor Hicks, RN said people who give blood should know how to prepare.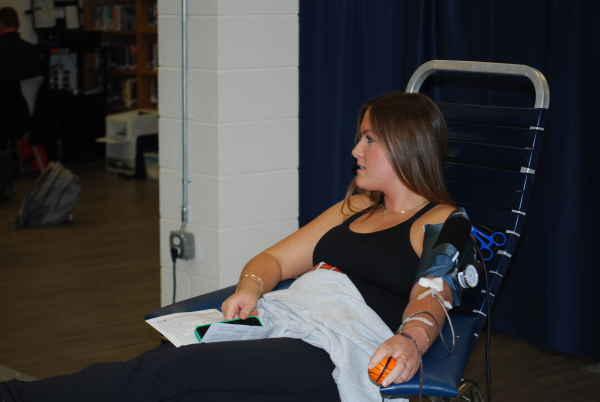 "To donate blood you want to make sure that you're well hydrated and that you eat a good nutritious breakfast,"Hicks said. "Make sure that you stick around so that you're okay after and if needed, you want to drink some juice and eat something."
Junior Madison Hamlin gave blood for the cause. 
"I heard that it saves lives and I know it would be for a good cause. I have never done this before and I think that everybody that does it is helping somebody," Hamlin said. 
Hicks said people who have O negative blood should consider donating since they are universal donors.
"Any blood type can donate blood. An important blood type, which is what is called the universal donor, is the type of blood type that any other blood type can receive. That is O negative," Hicks said. "Someone with a blood type of AB positive is called the universal recipient which means they can receive any blood type."
Key Club sponsor Patricia Hudson said she was pleased with the number of donors.
"We had 78 people actually able to give blood, and we had about six deferrals which meant people tried to give blood but their iron was too low or they did not weigh enough," Hudson said.