Game Changers: The Impact
Football and Volleyball
A followup to our fall feature on the impacts of COVID-19.  Our reporters interviewed coaches and teams looking back on their fall 2020 seasons.
Football
by Josie Conway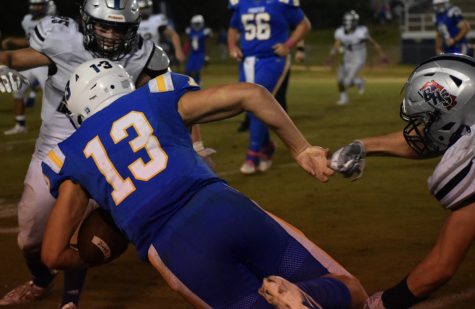 This year's playoff may look a little different for the Fairhope High School football team due to the unjust county rankings via COVID.
Luckily for the Fairhope football team, we have not have to forfeit any of our games due to COVID; however, Coach McDonald, a Fairhope football coach, stated there are at least ten games that have had to forfeit due to coronavirus, which gave their opponents an automatic win. Home game advantage has been taken away from a few teams for this season's playoffs, as the forfeits have reconfigured the rankings, making multiple hosting teams travel instead. Coach McDonald also said that our players and coaches are being more cautious with self hygiene, outside exposure, and are paying extra close attention to the sanitization processes they have to take during practices and games. Schools such as McGill High School and Thompson High School are making their football players do virtual school to help minimize thechances of them having to give up a possible win due to COVID-19. Overall, Fairhope's players and coaches are working super hard to keep our boys healthy, which, as of right now, is working perfectly since we have not had to forfeit any games so far this season. 
All our school can hope for is all that all of our team's hardwork and dedication this season pays off! Have a great day, and go Pirates!!
Volleyball
by Olivia Cole
As we all know COVID-19 is still affecting our lives day by day, especially our high school sports. In this article we will focus on how COVID-19 affected our volleyball team.
   Every sport has had their downs because of COVID-19, but volleyball particularly had some interesting ones. I spoke with several girls on the volleyball team and the head coach Lacey Powell about how things have changed. A sophomore on the team, Juliette Sandefur, said "practice at the beginning of the summer was very different. We had to be in separate groups for tryouts due to the max of people and social distancing. After we used the ball we had to sanitize it every time." I talked with Kaylee Kunz, another sophomore on the team, about games. She stated "Games were different because we couldn't shake hands with our opponents before or after the game. We had to wear masks when we weren't playing, and not as many people could come and watch us. We also couldn't do team snack tables". 
      Coach Powell added "There wasn't a captain meeting to do a coin flip for first serve. The visiting team was designated as the serving team.  We also didn't shake hands at the end of the match, instead we just waved."  Even with all the game changes our volleyball team still made it to Regionals with only a few teams forfeiting. Fairhope never had to forfeit, but "Gulf Shores, and a few tournaments due to new regulations had to forfeit." In order to qualify for regionals you need to finish 1st or 2nd in the area tournament. "By finishing in 1st or 2nd at the Area Tournament you qualify for the Super Regional tournament.  Fairhope finished 2nd."
Even with challenges our volleyball team still had a great season!