FAIRHOPE, Ala.-  Country/Folk artist, Summerlyn Powers revisited Fairhope High School and performed her homecoming show on November 3, in the Black Box Theatre. 
The concert created a new fan base for Powers as she was shown support from her local fans. Tickets sold for $5 and created a new fan base for Powers.
"This is my first time hearing Summerlyn Powers, and I am most excited just to hear her sing because I have heard such great things," said senior Maggie Cummings.
Powers' success is inspiring for many students. She has been a great role model to many musical students and an impressive alumni of the school.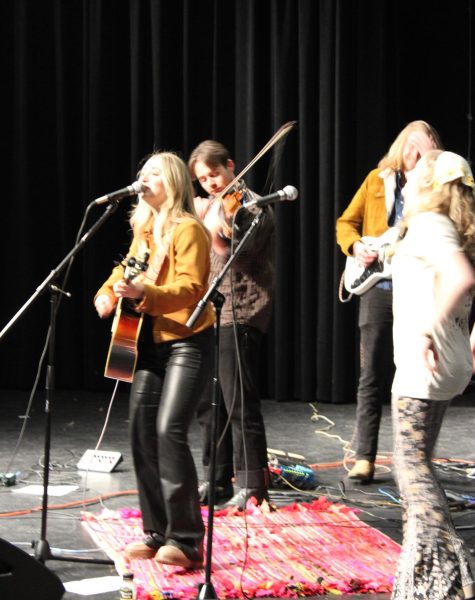 "I'm a fan of hers, I've known her for almost seven years now and took guitar lessons with her," said junior Eliana Steiniger. 
Powers graduated from FHS in 2019 and currently attends Belmont University in Nashville, Tennessee, where she is majoring in songwriting. 
"I started singing pretty young and Fairhope was a really supportive community when I was getting started," Powers said.
Playing for her Alma Mater is a surreal experience for Powers. "Alabama Kinda Girl" was Powers' first song that she wrote at 11 years old.  Powers' guitar coach Jordy Searcy and her vocal coach Marjorie Searcy inspired her growing up. 
"Jordy Searcy was my guitar teacher and he really inspired me by just being my songwriting coach and a guitar teacher to me and just someone who comes from your hometown that went on to the Voice and is now opening for Ben Rector," Powers said.
Powers' musical catalog has expanded over the past 12 years. She is excited to show her former high school what she has learned and how she has grown in music.
"It's kind of like coming back home in a really different way 'cause I'm an adult now and am doing some of the things that I dreamed I would be doing," Powers said. 
Powers released her country/folk album "The Hive" at the beginning of October this year. Her music is available on multiple platforms including Spotify and Apple Music. Powers continues to grow as an artist and a role model for many young adolescents wanting to pursue an artistic career.