Colorful Competition
by Jillian Surla, editor-in-chief
FAIRHOPE, Ala. – In a bracket-style tournament, four groups of senior and junior girls competed on November 9, in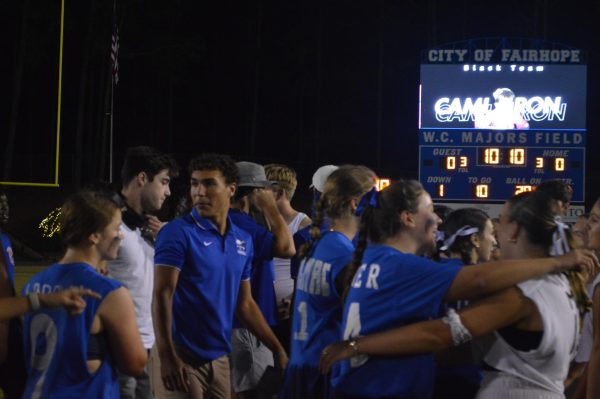 the second annual Powder Puff Game, after weeks of preparation and training. The Pink team (seniors) won the championship game with a score of 8-0.
The fun and exciting game funds the prom but also brings together hundreds of students.
"I love it," said Principal Jon Cardwell. "It's a Thursday night of a holiday and I have about 300 kids out here having a good time. This is awesome. This is what it's all about."
More than 30 minutes before the game, teams practiced and socialized with their groups. Each team had their respective ways to prepare before the match. Pink tossed footballs in increasing lengths, while Blue (juniors) stretched and White (juniors) and Black (seniors) walked through plays.
"We just try to teach them the basics of route-running and catching and just getting them into shape," said Butler Davis, Black team coach.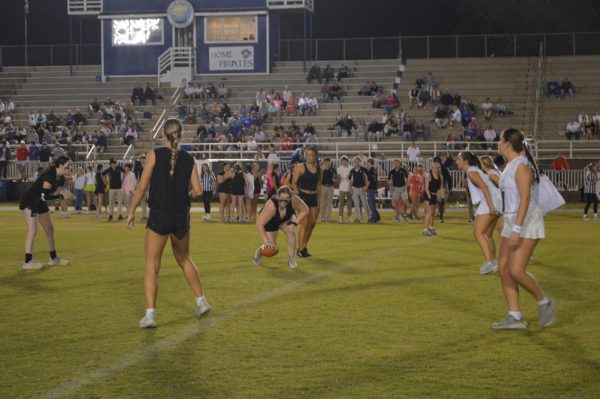 The first game set senior teams Pink and Black against each other. Pink secured the victory with a score of 14-6.
"There were a couple instances where Black would go really violent up there. But, you know, it's football. At the end of the day, they did their job," said Brockton Norris, Pink team coach.
Junior teams Blue and White played in the second game, with Blue gaining the victory with an impressive score of 6-0. White team quarterback Brooklyn Ewart said the other teams are not her friends while on the field, but as soon as the game finished, she ran to congratulate her friends.
"It was a bonding experience," said Blue player Mary Rux. "My teammates and I are so close now."
Before determining the winner, a game between the two losers commenced. White and Black teams went head-to-head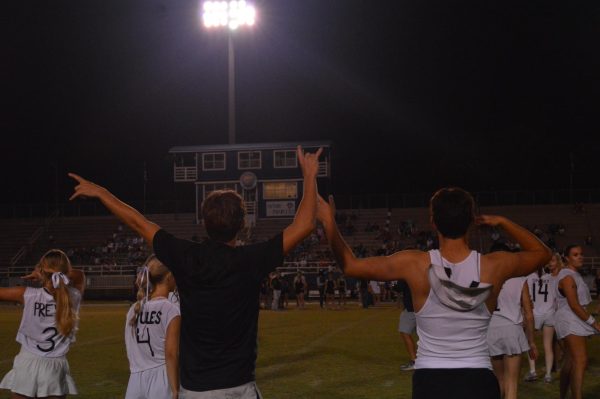 in a tough game, but tied once the timer finished.
"I wished it turned out different," said Rohan Markioli, White team coach, "like the outcome would be better, but we took a loss and a tie. But other than that, I had a lot of fun."
Finally, Pink and Blue played in their championship match. After a physical match, Pink won with a close score of 8-0. Once the surprise settled, players and spectators alike erupted into exclamations and congratulations.
"The ladies have really put in the work and I think they deserve the win," Norris said.
Closing the night, students and parents of all teams hugged and took pictures with smiles. Cardwell said that he couldn't think of anything more fun to do on a night like November 9.