Pirates go to the FINAL FOUR
Scroll to read interviews with Head Coach Solomon Johnson, and two of his players.
Season Wrap Up:
Our Fairhope boys basketball team was 23-5 this season. They ended up being 9th in the state, and 3rd in 7a. This season, the team made it into the Final Four. This took more than just a couple of good players. It took dedication, motivation, and the joy of playing the sport. This season included winning two intense area games against McGill, comeback wins, and insane dunks by our players. The team couldn't have done it without the enthusiasm of their student section next to them every step of the way.
---
Questions for MVP  Riley Leonard (pictured above)
Greatest memory from this season?
When Edward got his first dunk against Baker, perfect time and place for it to happen.
Seniors impact on you?
Holman- even though he couldn't play the 2nd half he still showed up every day and was the loudest at every game
EJ- was our captain and pushed us every practice
Demarcus-Didn't have the biggest role but off the court he was always lightening the mood.
What are your goals for the future?
My future goals include beating Jerry in an eating competition, becoming a jedi knight and winning the state championship.
How has basketball affected your life?
Taught me how to turn my teammates into brothers on and off the court and always have each others backs.
---
Fairhope Star, Hunter Ivy (pictured below)
Greatest memory from this season?
When we beat McGill at home and got to celebrate with the crowd.                                                                                    Seniors impact on you?                                                                                                                                                          Holman was always our #1 supporter, EJ would push us everyday, and Demarcus is just a great guy to be around.
What are your goals for the future?                                                                                                                                  Win state, become the first pilot/surgeon, and dunk on Riley for all to see!
How has basketball affected your life?
It has taught me how to deal with adversity and to turn to my brothers for help.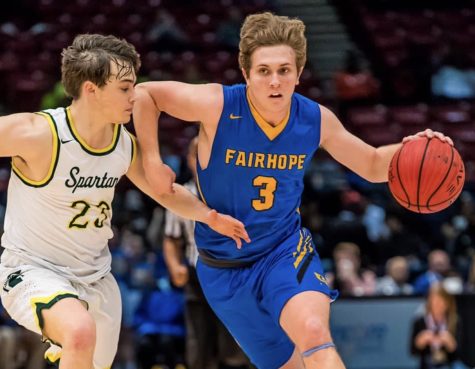 ---
Click through the pictures below!
Questions for Johnson
---
How did you feel about your team in the beginning of the season?                                                                      Played Mountain Brook in summer and thought they could beat Mountain Brook if they ever got to play them again because game was so close—surreal season
Did you have a feeling this team would make it this far this season?
Yes, at beginning of season. Then I wasn't optimistic because starters got injuries and players (Holman) was ineligible, and many weren't able to have their skills like his.  Then, the whole team changed their perspective and all got better.
What is your greatest memory?
Beating McGill in area game, on their court.
What will you do differently next season to win all the way?
Faster paced offense and different defense scheme, more complex. We will mix Fairhope and Mountain Brook's tactics together.