Friday Night Lights vs. COVID-19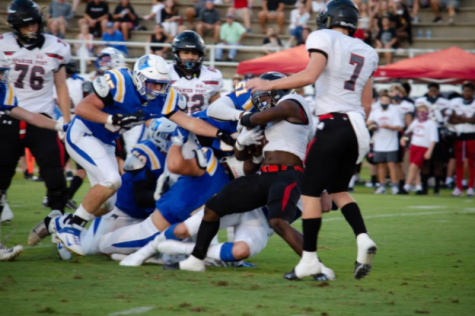 Can cheering on your favorite team in person lead to COVID-19?
We've been waiting for this since what seems like forever ago–the chance to have some "normal" again.  To be back in school, with our friends, and cheer on the Pirates.
But is doing something many of us love also putting us at risk?
Back in March, The Pirateer interviewed our school nurses. We knew the virus was potentially serious but the advice given was to wash your hands and try not to spread germs. At that time, there were 11 confirmed COVID-19 deaths and 164 cases NATIONWIDE.
Fast forward to August as decisions were being made as to whether we could even go back to school safely, much less play sports.
Adrienne LaFrance, an executive editor of The Atlantic, interviewed Peter Hortez, a pediatrician, molecular virologist, and dean for the National School of Tropical Medicine at Baylor College of Medicine to get his input on the Coronavirus and how he thought it might affect schools this 2020-2021 school year:
"This push to open schools is guaranteed to fail. The social-distancing expectations and mask requirements for the lower grades are unrealistic. In communities with high transmission, it's inevitable that COVID-19 will enter the schools."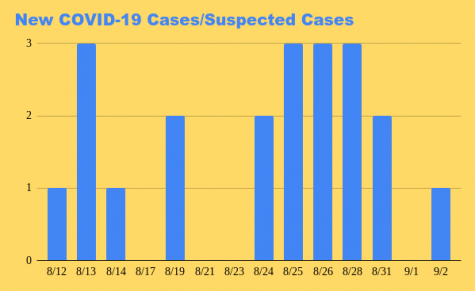 So what has reality looked like at FHS when it comes to COVID?
We've had fewer than 25 total cases/suspected cases since school started on August 12.*
We've not seen an uptick in cases since the first home football game between FHS and Spanish Fort.
Students are wearing masks throughout the school day and cooperating with the mandates of FHS and Baldwin County Schools.
We talked with Jon Cardwell, FHS Principal, about football as well as his concerns about students coming back on campus in August.
Do you think our first football game affected our COVID numbers?
"We have not seen an upward trend in our numbers. Our numbers have been low and we certainly have not seen a spike."
If at all, would you like to change the arrangements for the students/fans at our next home game?
"We're going to. We're going to be requiring masks as always. Our capacity in the stadium will be 50% as always. We're going to "x" off spaces for students to stand (in the student section) and we're asking students to only stand on the x's."
What was your biggest concern coming back to school this year?
"My biggest concern was getting everyone back and then having to send them home again. Fairhope High School isn't about the building; it's about the kids in the building. I want our kids – especially our seniors – to have as normal an experience as possible."
For now, it looks like we're in the clear to keep cheering on our Pirates in person. However, the question still remains- can being a fan in the stands lead to bigger problems than we can see?
*COVID/suspected COVID numbers based on daily emails from FHS Administration.