Fairhope High School Survival Guide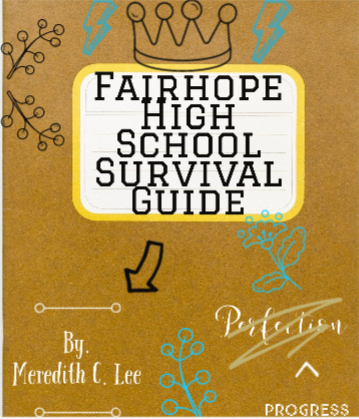 I am a junior at FHS. I have lived in Fairhope for a long time, and I have picked up a few hacks to get through life at Fairhope High. Strap in, Freshmen, because I am about to teach you how to survive Fairhope High School!
Procrastination will get you nowhere. Do not be one of those people who waits centuries to do an assignment. During my freshman year, I procrastinated regularly. This did not help me at all, especially in my AP classes.
AP classes are your friend, but not your best friend. AP classes are very good when you find a subject you excel in, and they can be very helpful when attempting to raise GPA because of the boost. However, a few AP classes every now and then is great, but do not be afraid of taking regular classes.
 Pick your electives carefully. Electives are meant to be classes that help you get an idea of what you want to do in your future career. One "fun" elective is fine, but remember to take electives that can actually help you.
Do not fear visiting counselors or talking to your teachers. If there is a problem, do not fear them. Their job is to help you.
Don't waste time with petty drama. I get it. You may want to gossip. Don't. You will barely have time for that here.
Finally, the hallway is not a meet up spot. Stay on your side. Do not push. We're all trying to get to our classes.
In conclusion, high school is weird. It is going to take some time to adjust, but find your path and ask questions to make your experience unique.