Dogwood Trailmaids form sisterhood, gain confidence
What all goes into being a Dogwood Trailmaid?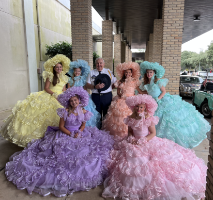 Dogwood Trailmaids…a little girl's dream
by Abigail Dasinger, staff writer
The Dogwood Trail program has been in place for over 60 years. Every little girl in Baldwin County dreams of being a Dogwood Trailmaid when they are older, but what does that entail? This tradition requires time, commitment, diligence and the list goes on.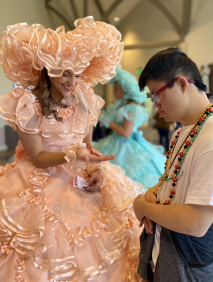 People may think of the Dogwood Trailmaids are simply girls in pastel dresses; however, Dogwood Trailmaid Stella Sheldon offers a different perspective.
"Each court member serves as an ambassador for the Eastern Shore and as a friend to the youth. Our dresses represent the floral heritage of our community."
Dogwood Trailmaid, Renie Kennedy, offers insight as well. 
"Dogwood Trail Court members are the light in the darkness. They are the girls you see in the hallway that make you smile. They are the girls that stand out and work hard to be the best they can be. We represent optimism and strive to follow the optimist creed."
While attending an event, such as the art festival, you may catch a glimpse of these beautiful southern belles. The Dogwood Court makes more than 80 appearances each year and they spend around 200 hours doing community service. This doesn't even account for the time spent striving for a spot on the court.
"So far the 2022 court has made approximately 80 appearances and we have completed 170 service hours. We will continue to appear until Easter Sunday on April 9th, 2022," Kennedy said. 
The pageant process starts in September; however, the pageant doesn't happen until January. That is four months the participants spend prepping. Sheldon said that she spent a lot of time practicing on her own because being in the Dogwood Court is something she has wanted to do her whole life. 
In the 2022 pageant, there were a total of 35 participants. The pageant initially consists of an interview, a creative introduction (skit), poise and an essay. If the participants make it to the top twelve, they answer a question on the stage which contributes to their final score. 
"I participated in the pageant in both my sophomore and junior year. I didn't make it my sophomore year, but I was able to try out again and was successful my junior year. I worked endless hours on my costumes with my mom, writing my skits, working on my interview skills, practicing the top twelve questions, writing essays, working on my poise and curtsey appearance, and many more things. It is a commitment. But so worth it," Kennedy said. 
The time spent paid off as Kennedy won the interview portion and became a court member. 
"Before a Dogwood Trail Pageant interview, participants are asked to fill out a personal 'bio sheet.' The judges asked me several questions from my bio sheet during my interview. After my interview, I felt great, as did every other girl trying out! So I definitely did not expect to win the interview category," Kennedy continues, "I can't even describe the feeling of winning. It was the best feeling because I had worked so hard for this and I had wanted it so badly! I would do anything to relive that moment again!"
With makeup, dresses, hair and nails on top of getting ready to perform dances, skits and more, the participants must feel their hearts racing faster than ever. 
"During the pageant, I was a bundle of nerves. I know exactly how all the participants felt because last year I was one of them. I felt a new level of nervousness and I was also so excited to watch them shine," Sheldon said.
As names are announced, everyone is on edge. All of the time and effort spent was leading up to this very moment. 
"When I was chosen to be a member of the Court, all I could think was 'wow.' Everything happened so fast and I couldn't think straight. As someone who looked up to the court members as a little girl, I couldn't believe I was going to get to be a role model and inspire other little girls," Sheldon said.
Seeing all the stress that these girls endure, you might find yourself asking "is it even worth it?" Pageant participants will have multiple opportunities to win a scholarship for the college of their choice. That is just one benefit among many. 
"I have learned SO MANY life skills from being a Trail Court member. But the skill that has benefitted me the most is learning time management! I have not always been the most punctual person and I am still imperfect, but I have improved tremendously! When I first started Dogwood, I didn't really know how to manage my time, but throughout the year I have learned so much," Kennedy said. 
One thing the Dogwood Trail program is known for is sisterhood. When you become a member of a court, you form life-long friendships with the other court members. 
"Sisterhood has been another amazing thing out of being on the court. I love my five girls with all my heart and I am so happy I get to do everything with them," Sheldon said.
With the benefit of increased college opportunities, sisterhood, and life skills, Dogwood Court members also embark on a self-improvement journey where they learn about their community and explore various service opportunities that help them develop themselves as young women. 
"Being on the Dogwood Court really gives you the confidence to do anything! Confidence is key to doing your very best and I can certainly say I have become so much more confident through this program," Sheldon said.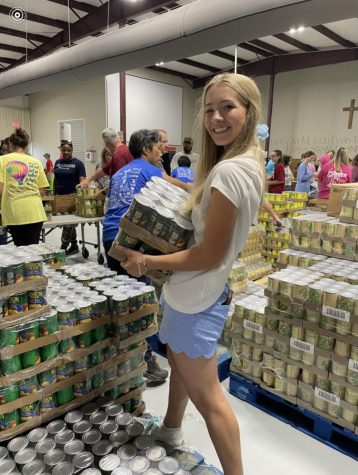 Sheldon explains that being a part of the court helps with social interaction as well. 
"We get to meet people of all ages and backgrounds and it's so cool to get to connect with all of them," Sheldon continues, "It has also changed my outlook on life and has shown me that my goal in life is to be optimistic."
All good things must come to an end and the 2022 Dogwood Court is getting ready to pass on the legacy to the next court.
 "I would say that my biggest struggle has been knowing that in a couple of months, I won't be putting on the dress every week to be a helping hand to my community," Sheldon continues, "I'll always miss the little moments of me putting my hat on little girls and making them feel like princesses for a moment." 
While the 2022 Court is saddened to be nearing the end, they still show much optimism and support for the 2023 court. 
"It is so exciting to see the new Court selection! I feel like it was just yesterday when my Court was named the 2022 Dogwood Trail Court. I cannot wait for the 2023 Court to take the reins from us and start the best year of their lives representing our community," Kennedy said. 
Kennedy shares her words of wisdom to the new Court. 
"This is the best but fastest year of your lives. So soak up every moment! And start a photo album and a scrapbook to remember your time!"
The Dogwood Trail Maids are not princesses. They are young women. They had to fight for their spot on the Court and in every moment since, they helped our community. The Dogwood Trailmaids represent elegance, grace and benevolence, and the 2022 court has managed to embody all of those things perfectly.