Track student athletes give insight
The stamina and determination of the track team
by Abigail Dasinger, reporter
FAIRHOPE, Ala.- Fairhope High School's track runners show what track is really about. 
Multiple schools from all around the area participate in each meet. Track is considered an individual sport, but still competitive. 
Junior Reese Knight has been running track for six years and says competition and preparation play a part in each meet. 
"How the meets go is primarily based on the track, who we compete against, and how much we prepare beforehand," Knight said. 
Although it is only his first year running track, Junior Sebastian Halm is working his way up.
"In Javelin, I started out throwing in the 50s, now my PR is 108ft. With discus, I started out throwing in the 40s with no form, now my PR is 90ft. With Shot put, I started out throwing in the 20s and now my PR is 33 ft. It's all about practice," Halm said. 
Track is more than just running. There are several events such as high jump, long jump, triple jump, 100-meter dash, relays, pole-vaulting, shot put, discus, and javelin. 
Junior Mackenzie Hartzog competes in the pole-vaulting event. She has been running track for over a year and is constantly pushing herself to be the best.
"I practice multiple times a day depending on the day, and I go to the gym every day besides Sunday," Hartzog said. 
Even though track is a difficult sport, Hartzog still remains passionate about it.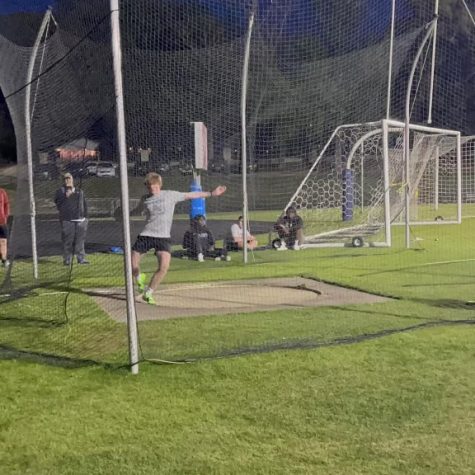 "The best part about track is that it is an individual event, so your performance is solely based on you and the effort you put into it," Hartzog said. 
Halm shares Hartzog's positive attitude.
"I absolutely love track, it's the first high school sport I have ever done and I've had no regrets from joining the team!" Halm said. 
The Fairhope track team competes in multiple meets each season with several other schools. Fairhope is in it to win it but they still keep it friendly. 
"I practice with a lot of opponents involved in the event outside of school, so we are all really close and I know it will be a positive environment," Hartzog said. 
Every track runner puts a lot of time and energy into the sport. 
"Before each meet; we warm up, stretch and run laps. I practice on average around four times a week for two hours each day," Knight said. 
Just like any other sport, track can be very challenging, both physically and mentally. 
"The hardest part of track is when you get stuck. It is draining to see you are not improving at times. However, it is all worth it though when you do really well at a meet," Knight said.
People who know nothing about track may consider it an easy sport; however, this is completely false. It requires time, commitment, hard work and responsibility. This sport is sometimes overlooked in a busy spring semester, yet these student athletes deserve credit for their dedication.
The final varsity track meet for this season will be for State. It will take place on May 4-6.