Velcro Pygmies perform at Fairhope High
Fairhope Students Rock and Roll
by Florence Beasley, reporter
FAIRHOPE, Ala.- Tuesday, April 11, the Velcro Pygmies visited Fairhope High School for students of all grade levels to buy tickets to rock out throughout the sixth and seventh periods instead of going to class.
Tickets sold from $5-$20 depending upon levels. General admission- $5, meet and greet with the band- $10 and a VIP ticket that offered a front-row spot, meet and greet, and lunch with the band- $20.
All of the iconic songs from the 80s and 90s had students jumping, crowd surfing.
Sophomore Austin "Fish" Lorentz even had his own chance to play with the band, performing "Enter Sandman," by Metallica.
"I was very excited but nervous all in one," Lorentz said.
Students, teachers and staff were all blown away by Lorentz's performance, like Principal Jon Cardwell, who supervised the event.
"I loved seeing Fish up there, he looked so natural performing. I hope I see him performing on stage somewhere in the future. The sky is the limit," Cardwell said.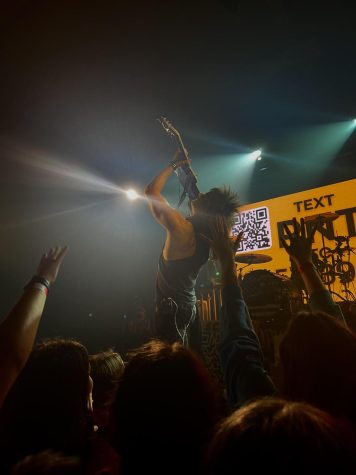 With that being said, a lot of hard work and serious planning are incorporated for big events like this.
Event Planning teacher Elizabeth Orfanello had a lead role in planning the event, with help from Digital Marketing teacher Stacey Weakley.
"I was supported by Mrs. Weakly and had lots of help from students! We started planning months ago. We had to reach out to vendors, and sponsors, and coordinate everything," Orfanello said.
In need of raising money for this year's prom, it was suggested that this concert would be the best way to obtain the money.
"As I investigated this option of a potential concert, I learned about the Reach and Teach Program," Orfanello said.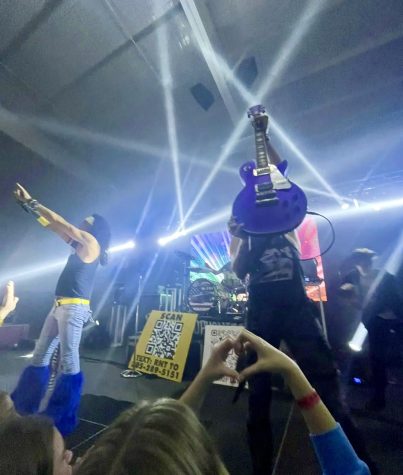 The Reach and Teach Program is an educational program that allows students to plan and execute a concert, involving lots of teamwork. This program has tons of lessons that go with the event planning, marketing and engineering programs.
The Velcro Pygmies came to FHS three years ago, and students who were there in the past couldn't agree more that having them here again was the best time ever.
Senior Ellery Scott was a freshman when the Velcro Pygmies were here the first time.
"I think the concert was even more of a success this year than it was three years ago. There were so many people packed into the gym to see them, it was great," Scott said.
All in all, Fairhope students rocked their hearts out till their voices were gone.